Discussion Starter
·
#1
·
Last two trips out have been after the Mullet, nothing like the two from further saaf, but they are there, taking the micky.
First we had a trip to Appledore to fish top of the tide, the flow was a bit too strong to float fish, so a paternoster over the wall was the selected method. Groundbaited with the usual mashed bread, not a bite for an hour, then we had a few plucks each:thumbs: Ahh fish in the swim, always a pulse raiser, then Mark hooked this small un.
Under 2lb, but always give a good scrap.It went quiet for ages, then Martin spotted activity further down stream, so decided to surface fish bread in a spot surrounded by moorings.He managed this fish.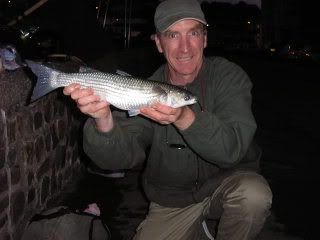 That was it from there.
A couple of evenings later, Mark and I decided to fish alot further up the Torridge.Similar tactics employed, started on the float over groundbait, nothing for 30 minutes, then I had a series of unmissible sailaway bites only I did miss them:sad2:Fish were also taking bread from the surface, I tell you, the anticipation is incredible.The float sailed away, but this time I`m hooked into a fair scrap with this 3lber.
Mark quickly followed with a 2lb -2, The fish moved off for half an hour, Mark followed up with another 3lb fish
My swim had become rather quiet, visitors had come over to see me which spooked the fish:sad:
Mark had still got them in his swim and ended up with another 2lb fish.All in all a cracking few hours mulleting:thumbs: