Discussion Starter
·
#1
·
Gambia July 2008 adventure.
Friday 4th July.
I booked my flight with a tour company and the luggage allowance was only average 20k hold and 5k hand luggage. Sports equipment can be booked and paid for as an extra except it doesn't include fishing gear, this must be taken within your luggage allowance.
Now there are a couple of ways around this problem. Firstly put 25k of luggage in your hold bag and claim to have no hand luggage which must be left with someone or in the car or wherever to be recovered after booking in.
The other thing you can do is to book the sports equipment option at £60 return, but click the "Kite" option or similar. I usually opt for skis if going to a cold climate. My rod holder is a 7 foot x 7 inch diameter length of tube which comes from inside a roll of carpet and is as strong as any commercially made carrier I've looked at.
It holds 6 rods, an aluminium tripod and a 2 inch diameter, 2 metre length of plastic pipe that I fill with leads and once there it can be cut in half and used as rod holders.
Officially with this particular carrier the sports weight allowance is up to 13k above your 20k hold baggage. I doubt few if any desk clerks know this and most I suspect will allow the maximum weight allowed for one item which is 32k.
Remember to take a physical receipt for the sports luggage charge or the Gambian booking in clerk will try to charge you for the overweight, they have no computer to check you have already paid.
One more thing about airport formalities, this particular travel company had another card up their sleeve to relieve you of your holiday spending money. On arrival at the boarding gate at Gatwick they weighed heavy looking hand luggage and charged for any excess weight (Above 5k) that's a new one eh? Mine must have weighed 10k but it was only a small bag and I wasn't challenged, lucky.
My flight from Gatwick to Banjul arrived on time and customs was no hassle as I paid a porter £1 to get me through the hustle and bustle and to my waiting coach.
I arrived at my hotel, the 5 star! Kairaba in Kololi in the early evening and had dinner at a restaurant I wanted to go to on my previous trip, the "Kora". Surprisingly I waited ages for my food and it was not good so sent it back. Fair play to the restaurant, they didn't charge me anything including for my alcoholic drinks so I promised to return. (Next time though)
Bumsters, basically lazy Gambians that want to be your lifelong friend and ask you for money at the last minute are a pain to the uninitiated and I usually pretend to speak only Spanish which gets rid of most. Problem is the area is becoming popular with Spanish tourists and the Gambians are learning Spanish fast, must learn Swahili.
Gambia's tourist season runs from November until about April and half the town was shut, this is a tough time for the locals as there were few tourists in town. Local taxi drivers were jumping on the Bumster's bandwagon and asking for enough money to buy a meal, usually rice and beans at a cost of 60 pence. I must admit to buying a few meals for them and as long as I didn't feel I was being conned I didn't mind. By this I mean I didn't give to the ones that pretended to be my room cleaner or coach driver or the ones who were collecting for a children's charity.
Bumsters 1, John 0.
Saturday 5th July.
Having had a chance to look around my room and the hotel in general I can say it is nowhere near a 5 star and maybe creeps in just under a 3. My bathroom mirror was held on the wall with masking tape!
After a poor warm buffet breakfast in the hotel my well known Gambian fishing guides, Tom and Assan picked me up at 9am. We headed for Tanji for bait, ice, drinks and lunch and then onto Sanyang where we would chase the tide out. I hadn't picked the best of weeks and a week later would have been better, both for beach and boat fishing, but I have only myself to blame.
Catfish were an immediate pain in the rear and I was soon picking them up nearly every cast. If the initial bite was missed then the fish would just sit there and make very little movement on the rod tip. Only seeing line heading north in the strong current alerted me to the fact I had a fish on, that was of course if the fish moved the 6oz breakaway lead.
See photo of such a pest. (The fish not me)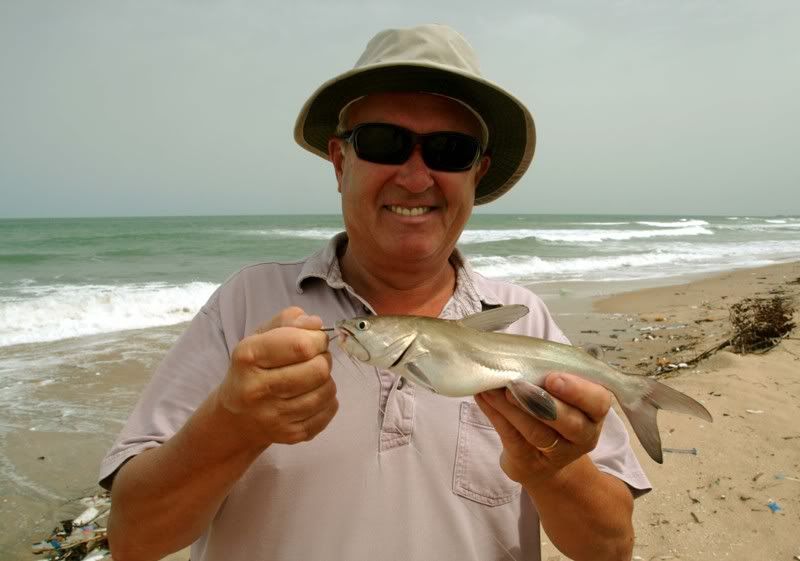 When I was in The Gambia in January catfish were returned to the sea and only superior species were kept for the table. Things had changed drastically, money and work is now more difficult to find and inflation is going through the roof, especially food.
Our catches of catfish in particular would feed the families and neighbours of Tom and Assan.
Baits were prawn or Bongofish or a cocktail of the two as in the following photo.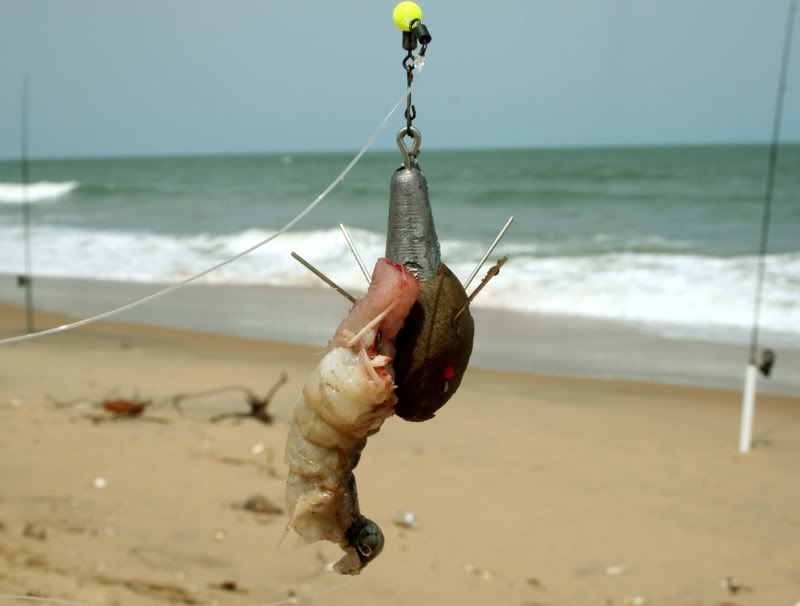 There is halibut paste around the lead, which works for me sometimes.
The sea was warm and waves were not too high and I was able to wade out a long way to cast my leads. What with only having 4lb to 5lb t/c rods I couldn't give them too much welly. My guides were casting shorter and I was catching a lot more fish, be them all catfish. The reason I think, was I had 3 rods to their 2 between them and what with the attention my guides were giving me they were not fishing effectively themselves.
At 1.30pm we moved to a spot towards Gunjur the lads thought would fish the incoming tide much better.
Low tide was about 2pm and so at 3pm we were expecting the fishing to improve. It was looking good at that time especially when the beach crabs came out to feed, Tom told me this coincides with the fish gong on the munch. Certainly the cats were on the feed and in fact they never stopped all week.
Just after the turn of the tide Assan caught a Sumpat or white Snapper, also called a Roger's Grunt. I never heard one grunt but they twitch as you hold them. Good eating and similar to the Cassava I'm told. These fish seemingly move in groups so we were hopeful of a few, this one is small for the species.
See photo of Assan and his Sumpat.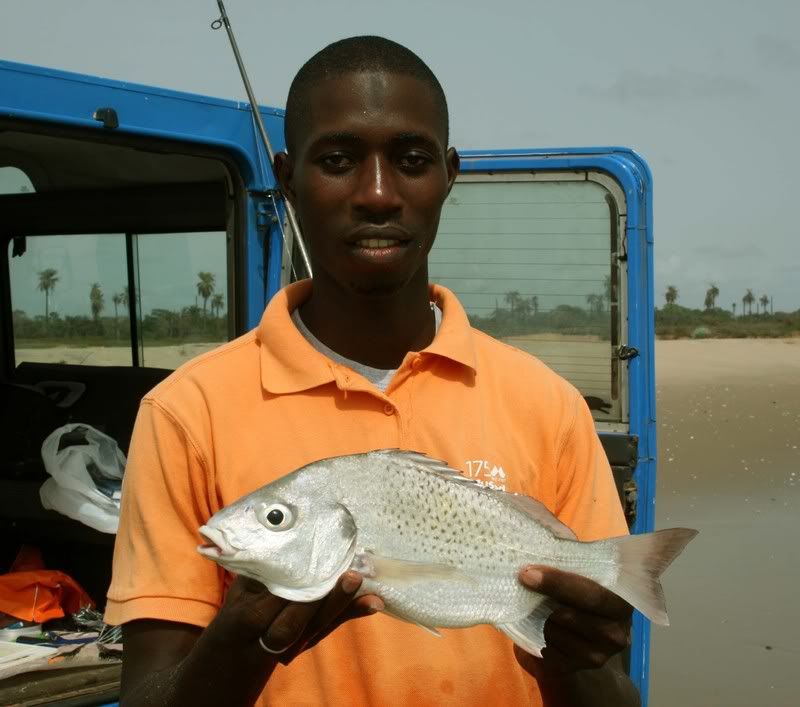 Not long after Tom also caught a Sumpat and I must admit to having been envious because one would add a new species to my 2008 hunt, now standing at 38.
I don't like being surrounded by other anglers and do love an end peg. The two lads had me surrounded and I said that was why they were catching the good fish leaving me with the catfish!
By 5pm we had to move again because of heavy weed and so headed back to Sanyang. We were still suffering with a little weed and now strong wind too and it was enough to spoil my presentation I thought. My line had a large bow in it and bites were even more difficult to see even though I was using braid.
Tom caught a small Stingray during the early evening and I was still catching bucket loads of catfish. Assan had himself a small Cassava.
See photo of Assan and his Cassava.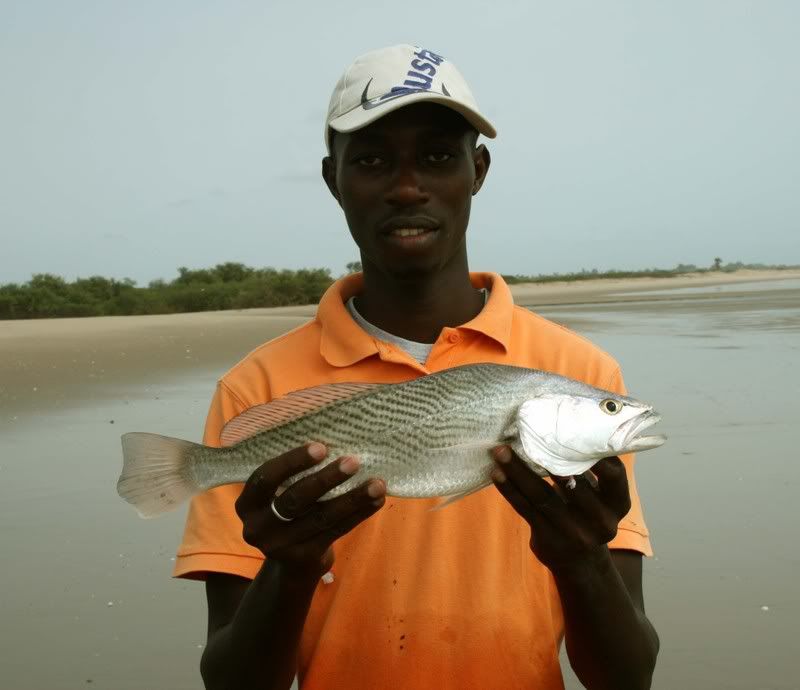 We packed up at 7pm and my total catch must have been at least 25 catfish, still they would feed some hungry and needy people.
Back to my hotel for a shower and I fancied a drink and so went to the mini-bar, empty. It transpires you have to order in advance, and pay for it whether you drink it or not, whatever you want and only then would they come and turn on your fridge.
What with the lack of restaurant choice in the town I went for a local Chinese restaurant. I tried a few different dishes and most was ok but the sweet and sour pork was excellent. I love hot and sour soup but I've never had it so literally served and this one should be renamed "Very hot and very sour soup"
I went for a drink to the "Wild Monkey" restaurant where they tried to con me over fresh lobster in January and there was some impromptu entertainment by four local Gambian drummers and dancers, a good end to the night.
On the way back to the hotel a bumster told me he was hungry as he hadn't eaten for two days and wanted 25 pence for a bowl of rice, I gave him 50 pence and told him to leave me alone tomorrow!
Bumsters 2, John 0.
Sunday 6th July.
We arranged a late start today so we could pursue the tide in until dark. After chasing around for bait and ice which was not available in Tanji, but found in Gunjur, we started fishing South of Sanyang not all that far from the Senegalese border.
After only ten minutes and with catfish to my name already I said I was going to change my nickname to "John the catfish man" the lads thought it highly amusing.
About 3pm I broke my duck and landed a Cassava, the biggest fish of the trip so far.
See photo.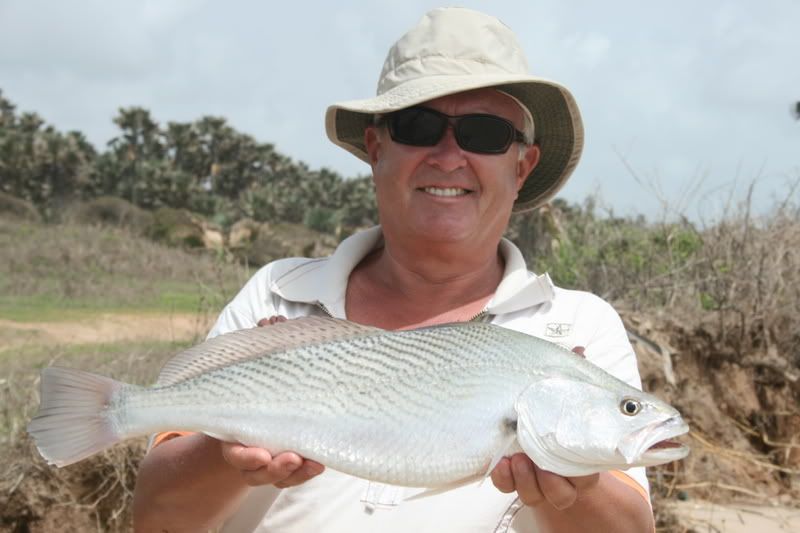 Shortly after and just before the turn of the low tide we headed for a mark near Footsteps Beach which the lads say is well known for Stingrays and Crevalle Jacks.
It wasn't long before Tom had a small Stingray.
Early evening I lost a biggie with a hook pull in the surf and the profanities might have been heard in Tanji. Difficult to judge I know but from landing over a hundred 20lb plus carp that's the constant weight I felt was bending my rod.
A Sunpat for Tom and three cats for me early evening but we were still confident after me losing the big fish.
It wasn't long before Tom brought in another fish I would have loved to catch, a "Shiny Nose", similar to a Captain Fish.
See photo.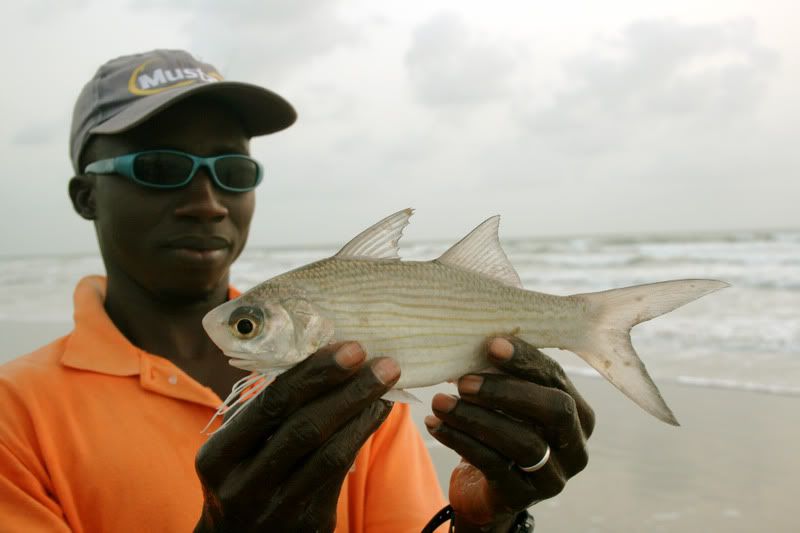 Just before dark I decided to change tactics on one rod and added another hook up the line. This I hoped would allow a catfish to hook itself on the bottom one and at least give me a chance of catching something else. Within ten minutes I brought in a catfish on the bottom hook and a Captain Fish, species number 39 in my 2008 hunt, on the top hook. I had seen the catfish was hooked but left it and my plan had come together.
See photo.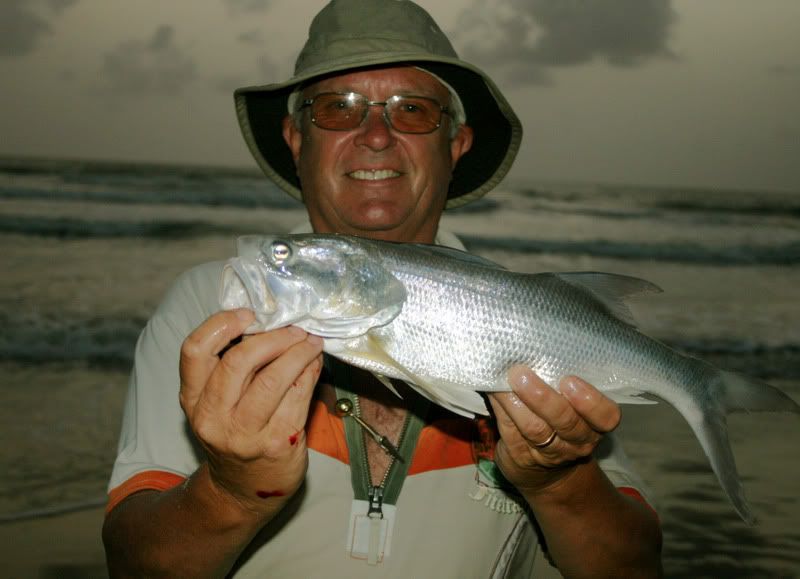 Now I hear you say "why didn't you think of that before?" Because in January every fish I landed was hooked on the bottom bait and only once was a top hook bitten off by a Butterfish. I wanted the extra distance and so from this experience there was no point in wasting it with extra bait on. Hindsight is a wonderful ability I look forward to possessing when I go to the great sea in the sky.
My last casts of the night with three rods produced a Stingray and two catfish; I didn't even know they were on. I caught fewer catfish today but judge it was still 20, the two compound's inhabitants would eat well again tonight.
Back at the hotel I looked in the mini-bar but nobody had turned it on or put anything inside. When I enquired as to why, I was told the mini-bar man was off work today and he would likely do it tomorrow. I quipped "So if the chef is off tomorrow I get no breakfast?" I didn't even get a smile.
Kololi has a typical African restaurant known as "Uncle Nuhas" (Noah's) and I was invited by their promoter, Assan the other night to take my fish there to be cooked. After waiting an hour and a half for my meal, my typical "English style fish and chips" turned up covered in fried onions, very tasty it was too. I insisted on paying the full price of the meal and asked that the staff have the other 3 portions of my Captain fish. I think fish and chips on the menu, was £2 and so it's no surprise the place is packed with locals, especially taxi drivers during the day. As for the typically African food I haven't a clue, I didn't go again.
I had a drink in "Ali Baba's" garden restaurant where there was some entertainment. It's a place I wouldn't go into last January as there were always lots of street promoters outside trying to pull me in and that puts me off.
Bumsters 2, John 1.
Monday 7th July.
Yesterday morning, while waiting for the lads to pick me up I chatted to one of the official guides that are based outside the Kairaba and Senegambia hotels. One told me he could get me on a boat with tackle and bait from Denton Bridge for £50. As it was so quiet I would probably be the only angler but the price would be the same and would include transport there and back.
I asked Assan to ring Ninja (Assain) to see if he was busy and if he wanted to do a deal for three days. We agreed on two days at the full rate, £100 a day and a day's fishing for free, fair enough I thought. The tides weren't good and as I said before I was a week too early.
Assan and Tom picked me up at 8am and we found Ninja catching baitfish under Denton Bridge. Assan was joining me on the boat and Tom was going to clean the 4 x 4 and pick us up later.
Baitfish caught were, Ninebones, herring and Black Angelfish, I was surprised there was no mullet. We headed towards Bakau where we met Tom on the beach, he had gone to buy prawns from the market as Ninja didn't have any.
We fished somewhere close by on a sandbank 2km out to sea. Our mark was close to a drop off that went from 9 feet to the 31 feet we were fishing in.
Ninja asked if I wanted him to set up my rod and I agreed saying I would start fishing the way he suggested, he's the expert. The rig was simple with a running ledger and 3 foot of 30lbs mono trace I guessed and a 4.0 hook. My own rod was a Shimano 20lb class 7 foot and 34lb braid mainline on my Shimano Charter Special.
About 11.30am I had a tap-tap bite then the rod bent over, as I lifted into it I think the bait was pulled out of the fish's mouth. I quickly dropped it back down but after a minute of nothing happening I began reeling in the line. A fish hit hard and immediately the rod bent over but then I had lost it, or another fish, for the second time. Ninja wasn't happy and looked away in disgust and maybe I did have my clutch set just slightly too tight but not enough to cause a hook pull I thought. On retrieval the mono line had gone at the swivel and so I at least didn't feel so bad, I didn't tie it. After that I used a 60lb mono leader.
Ninja was fishing two rods with live baits and one with prawn and Assan was on prawn too. If I go there boat fishing again I will take two rods, one for live baiting and one baited with prawn to hold. If it gets too busy one can be reeled in.
Midday, Assan had a Shiny Nose and shortly after an angelfish. Ninja had a few Butterfish.
See photos of Assan with an angelfish and Ninja with a butterfish.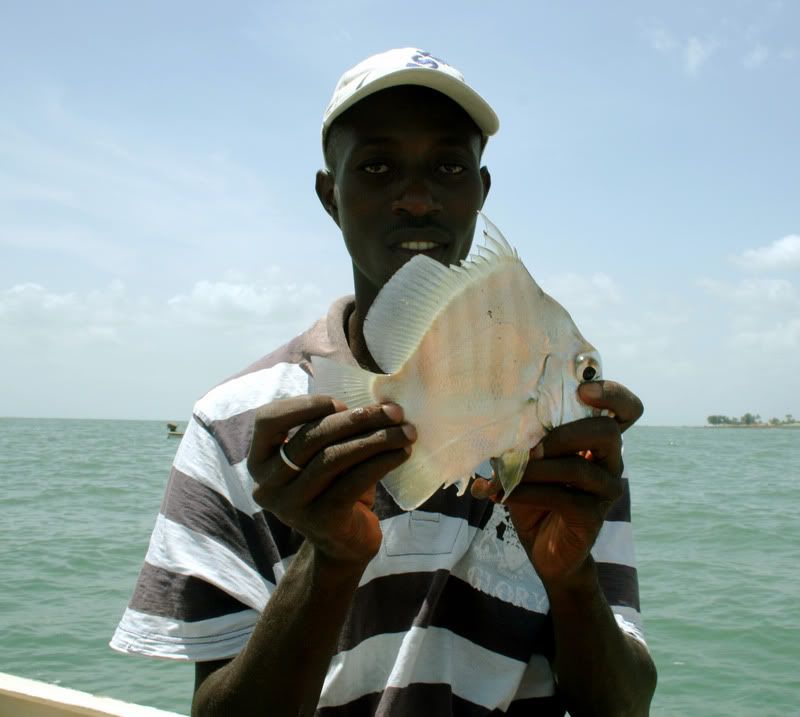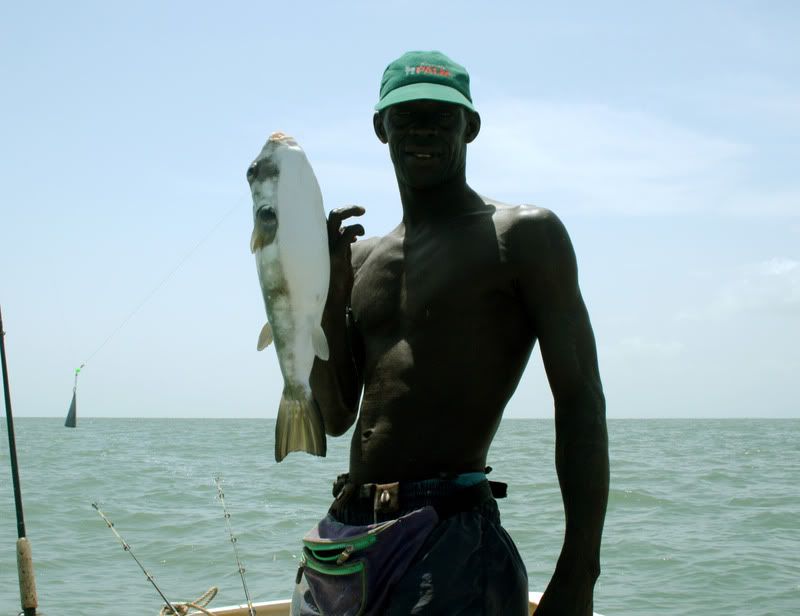 Ninja soon landed a fish, a Palometa, with Assan following it with a Sumpat.
High tide came and we moved a few kilometres further South. The strong tide was about to start and would be less of a problem there, Ninja quickly landed a Butterfish.
I thought it was about time I tried my own method and put on a six hook white feathered mackerel trace, hooks were baited with prawn. My weight was just bouncing the bottom with me giving a few foot of line every now and again before tightening up. This I thought would be giving me perfect presentation and what is a killer rig on my home ground in the Mediterranean, it didn't work and I received no interest.
To be continued.