Discussion Starter
·
#1
·
Got out with Gethyn earlier today and for once the winds allowed us to get to the deeps.
After a fruitless couple of drifts for mackerel and another for Pollack, (some nice fish caught, just not by me!) we headed off to fish the main event.
I loaded up with hooks with /0 on them for the first time in an age, as I rigged up a 7/0-5/0 pennel on 150lb mono and dropped large mackerel and squid baits to the bottom.
I started off slowly, with only a doggy and a dropped Huss (all the way up just to spit the bait!), although others had Huss to 12lb, Whiting and doggys.
As the tide started to flood I put a mackerel / squid cocktail on and dropped down. A few moments later all hell broke lose with a cracking bite and line being stripped from the reel. Hopes were high, as Gethyn had told another angler that he had hooked into a Tope.
Never having hooked a Tope before I was amazed at the sheer scale of the power as I wound it in the 200ft or so, uttering the anglers prayer of 'please don't fall off, please don't fall off...' all the way up as the fish surged and head shook.
Finally got it to the surface and safely netted.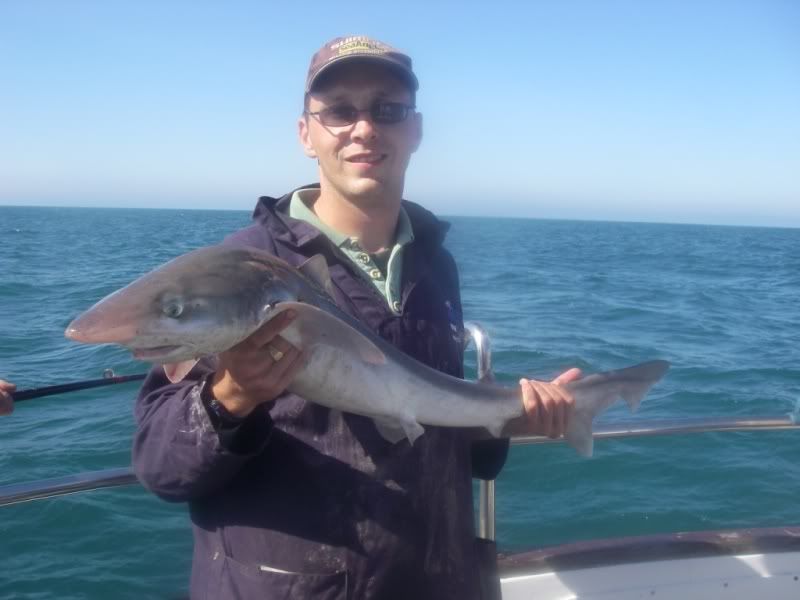 Not a biggy (Geth reckoned 10-15lb bracket) but the biggest fish I've had this year. I'm not too sure I'd want one much bigger!
We then went back inshore for a few drifts, with myself adding Ballans and Poor Cod to the day, with some Big Ballans, Cuckoos and Mackerel also being landed.
Happy days, tight lines