Discussion Starter
·
#1
·
Hi.....i was desperate to get out today,as im on hols and before the dreaded call back into hospital comes.. i needed to go and forget my woes for awhile...so with the pending forecast giving light winds early this morning and picking up by midday...i loaded the car and
....!!
i grabbed my new ugly stik charters( brought especially for trolling.)...and my plugs..and headed for the moorings...
Nemo kicked into life on the 3rd pull ..and i was away and i headed towards my trolling grounds......!! how good did it feel to get the wind running through my `spence` haircut again....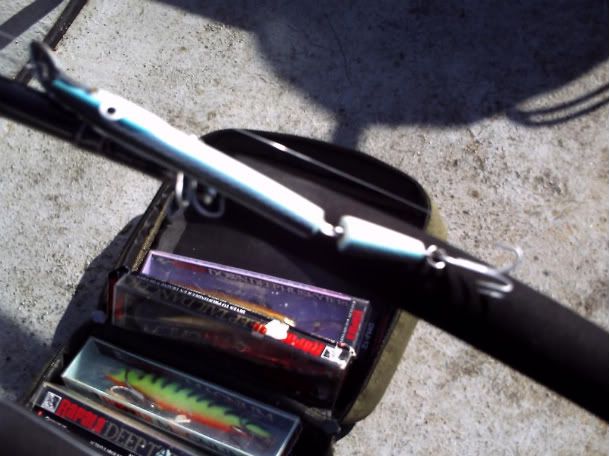 the sea was calm...well for awhile it was ... my plugs were streamed out as i rounded the breakwater head..and i was all set for my first take...it came within seconds....BASS..no!! a garfish of about 1lb had latched on to my plug....no piccie as my camera said low battery...rather than mess around changing them then i let it go..great start..
i headed off towards brighton... with the tide falling.. it was far to shallow close in..so i hit the 25ft depth a fair way off the shore...
i got in a bit of a pickle ..wrapping my second rod/line around the outboard leg..whilst trying to clear some `spaggetti weed` off my plug...ooh..!! not good as i snagged my stockings to...oops there were clean and fresh on this morning..!!
never mind i carried on ..my second take came as i ran over a shoal of fish on the fish finder...yep..!! it was a maccy...and a good one at that...
the weed was getting to be a problem the further i went the more i picked up...
i was beginning to feel rough not because of the sea that was chopping up..but from my medication....so i turned about and began the 4 mile trot back to newhaven in very choppy seas and with it following me gave me some dodgy moments trying to clear weed from my plugs with the wind pushing nemo broadside...lines crossing each other and again the line catching the outboard doel fins
it was only on the run back past the harbour..on a mark that produced several bass for me last summer..i got my first real smash over here....fantastic..!! the charters and the 15lb cotton braid handled it brill..i was so chuffed with them....after a quick tussle my first trolled bass of the season came aboard...SUCCESS..!!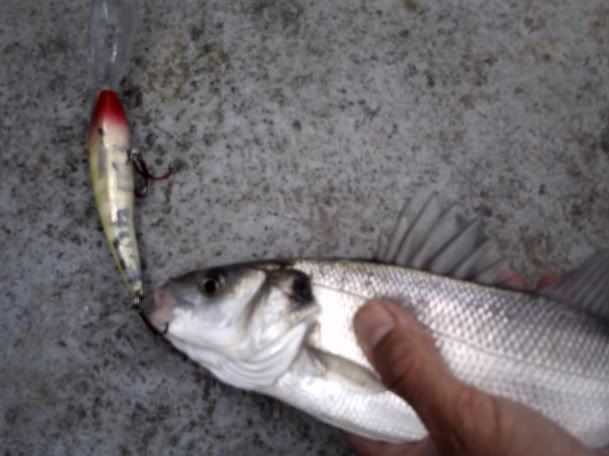 i headed in after the bass as i was really feeling quite rough..almost to the point of spreading groundbait..but not quite...but i got out and back ok..nemo ran brill...and my rods was lovely....if i get a chance again this week i will head out....but will bait fish on a new mark i have.... instead of trolling as theres to much weed about.....
i must say a big thanks to all the pms i have had wishing me well on my current ill health ..its really appreciated..and heart warming..thank you...
kindest regards ..andy