Discussion Starter
·
#1
·
After waiting weeks for some decent weather and no work I finally got out today on Sea Mistress.
Fisherman333 and Timmy Butler travelled to me from Folkestone and we then met up with ray at the marina at 7am.
First stop was about 15 miles out and the gossip from the charter boats was that there was not a lot about. We were determined to prove them wrong:whistling.
I can not remember what we caught where but after fishing half a dozen different wrecks we managed about a dozen Codling to around 8lb, half a dozen Pollack to the same weight and a few Red Gurnard. There were also masses of Mackerel, some of them easily weighing a pound and a half.
Chris (Fisherman333) was not feeling too well for most of the day so us three had to do most of the catching. Timmy got a few cod with a new new PB of 4.75lb and his first red gurnard. Chris managed a few Scad, half a dozen Mackerel, 2 Pout and a couple of Gurnards.
Once again Ray showed us how it was done, with several Cod and a couple of Pollack along with more Gurnard, and I got the rest inc the biggest Pollack of the day.
Timmy's first codling of the day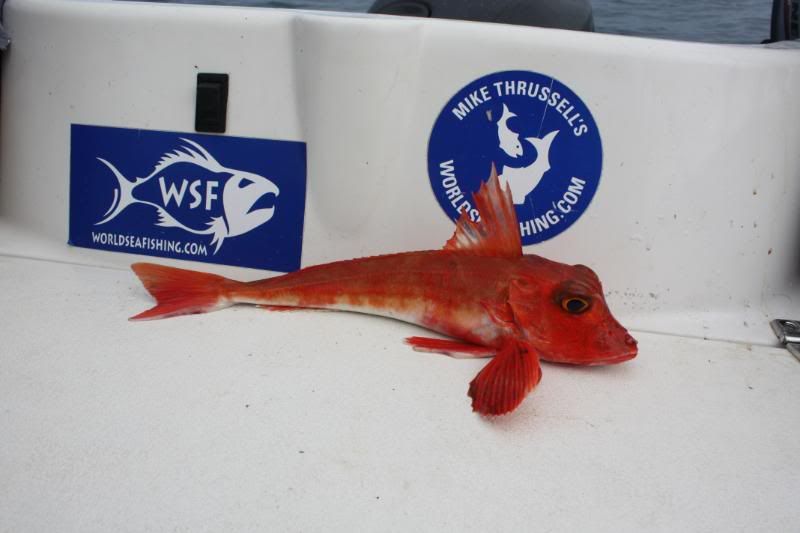 One of his Gurnard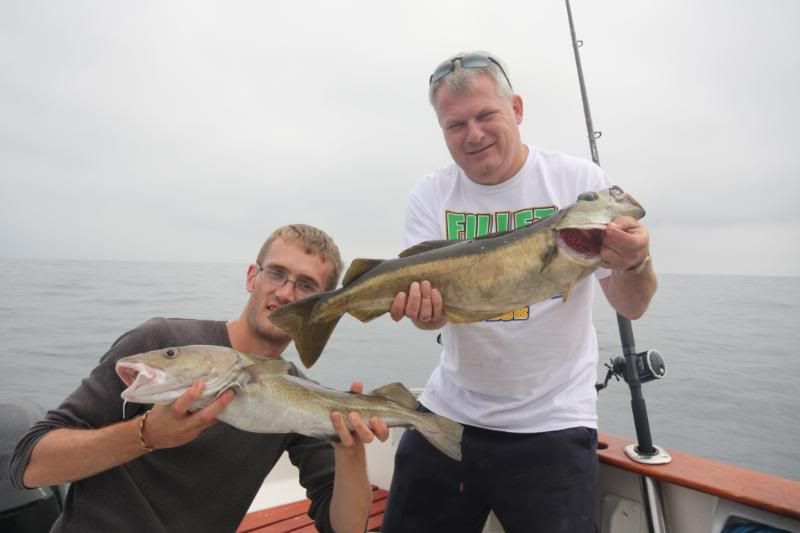 A Cod and Pollack double for Timmy and I
Conditions were not bad although not as good as I thought they would be. We had a bit of a nighmare for most of the day fighting off swarms of some kind of yellow and black striped fly which became extremely annoying as they seemed to be attracted to the white of the boat and my T shirt:bones:
We arrived back at the marina at 4pm having thoroughly enjoyed the day, well 3 of us did:yucky: