Discussion Starter
•
#1
•
Phil drew a great map today with drifts for incoming and outgoing tides to target coalfish. I headed out to the first mark in 110m and threw a 125g pilk out and let it drop and drop and drop then commenced a medium paced retrieve. There was a big bait ball of brisling showing on the sounder at 40 odd meters so I was confident the coalies would be about. Next drop and bang I'm on and this thing was heading south at a high rate of knots! Thankfully with 110m of water to play with you can just let them run. After a few tweaks on the drag knob with and no sign of slowing the run finally came to an end and I proceeded to bring it up. Mental note to myself – bring butt pad next time, these things go hard!
5-6 kg of sleek dark coalie: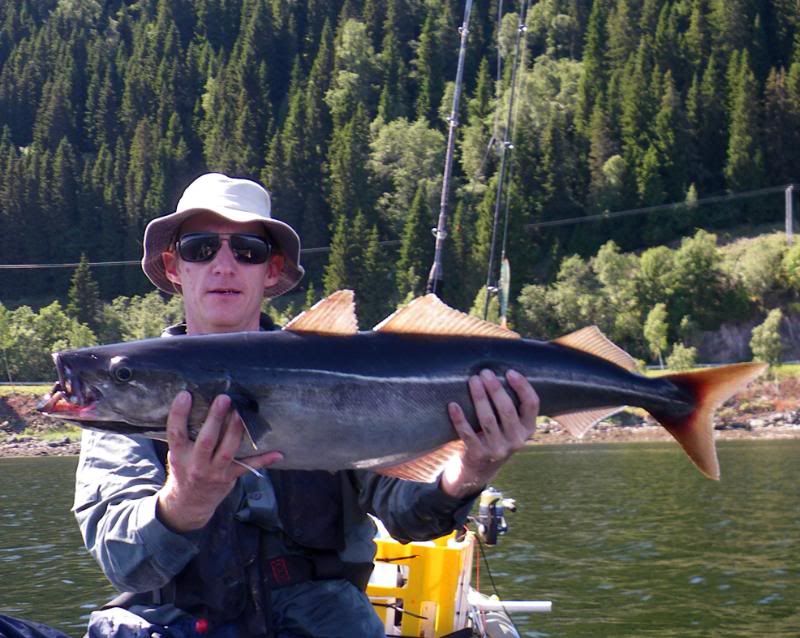 I carried on the drift and Phil came out to do a spot of filming, and gave me a tow back to the start of the drift. We relocated the baitfish and with cameras rolling I dropped the pilk and was on again by the time I pushed the bailarm over, this one started well and almost dragged me into Phil's boat, though ran out of steam pretty quick and turned out to be a little 2-3lb tacka. Next drop my line stopped dropping way to early for the bottom and I was on again, this time a bigger fish.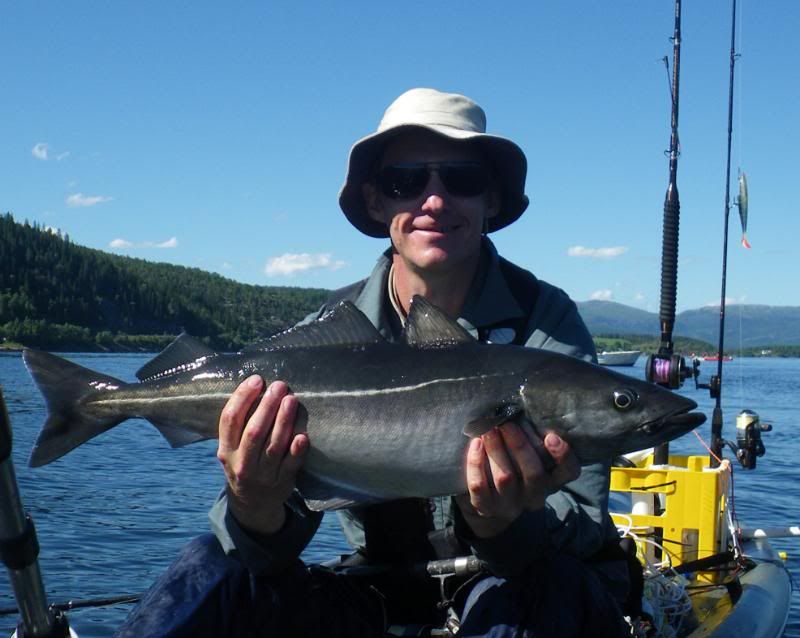 Got it on video to, Phil was having camera battery issues so left and with high tide slack water the fish went off the bite so I headed over to the 'brown house' for some Pollack action. Picked up a few Pollack and cod in the 2-5lb size range and experimented with some relax shads which the cod took a shine to.
Under yak shot of cod landing
One of the numerous cod taking while trolling a 'motor oil' coloured shad
My slow drift with the outgoing tide had brought me back to skarnsundet bridge, and the birds were working so I headed back out to one of Phil's outgoing tide drifts and had another go. I'd drifted out into deeper water and got a hit at about 60m depth and again the coalie steam trained it down towards the 130m bottom. After a long pump and wide session I got my biggest coalie of the day, I kept this one and it weighed 6.3kgs – nearly 14lbs in old fashioned units. A fantastic fish to end another great days fishing.