Discussion Starter
·
#1
·
Day 8 was my last day – the weather was no good for halibut fishing, so I decided to head over the the bridge pylon to see if I could dead bait a big lunker of some sort up. While paddling over there I came across a big bait ball at 40m – the rain had pushed the bait fish deeper. I dropped a pilk and after afew nudges hooked up solid on a nice coalie. I'd forgotten my camera mount so went for a new angle!:
Kinda got a bit distracted by the coalies then, and when I made it to the far pylon, nothing juch was happening so I headed in for lunch.
For the late session I went straight for the pylon and got a few small Pollack and some bristling (small herring). This is what the coalies had been feeding on, not difficult to see why the 125g pilk worked so well: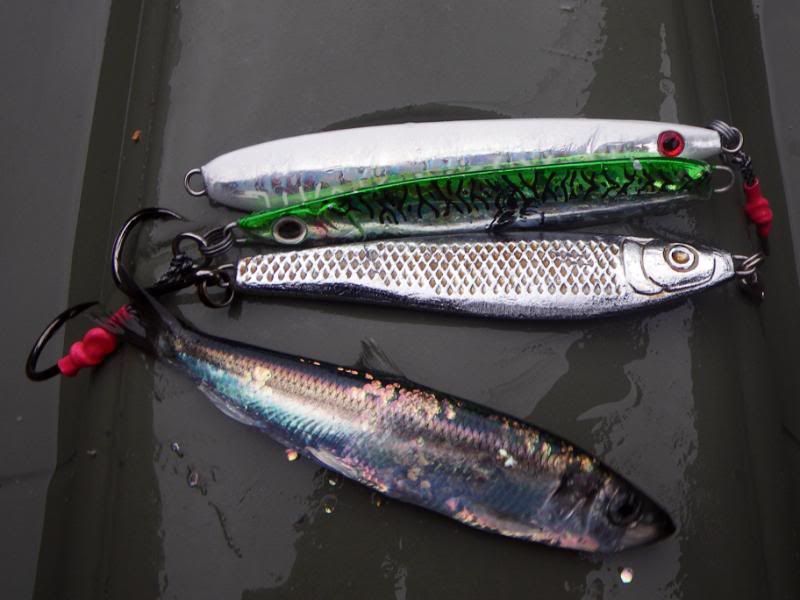 So I headed over to the far pylon which has deep water on one side of it (80m) though couldn't fish near it as there were people chucking lures around near it and didn't fancy a treble for an earring, so headed back to the shallow pylon. Nothing took the dead bait, and things were even quiet on the side winders – usually the Pollack would be climbing all over them. So I tried the jelly bean theory and stuck a 2" camo gulp sandworm on a 1/16 no.2 jig head. I initially hoped to catch a small coalie on it for bait, though was surprised when a good sized Pollack jumped on:
Great fun on such light tackle! Then a cod: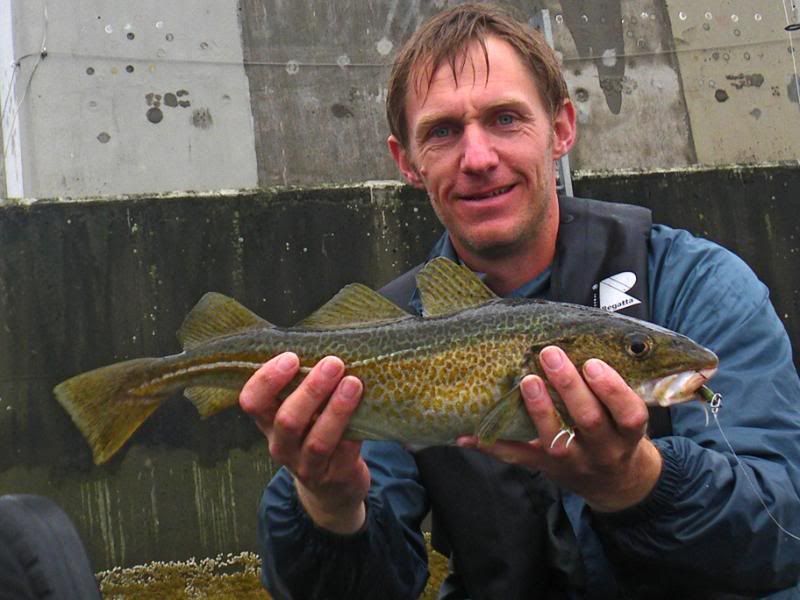 Then more cod and Pollack – I decided to video the action so didn't take any more pics – should have a video cut in a few days. I really enjoyed that last session, fishing soft plastics is definitely the most interesting and exciting way to fish for me, and it seemed fitting somehow to finish off where my weeks fishing had begun.
Big big thankyou to Phil and Klaus for lookin after me so well and working with me to make kayak fishing in Norway happen. I hope it will be the start of many more kayak fishing trips to Norway by others – the spot has got so much potential.
On an ending note – on my outward journey I was convinced the airline would hit me up for excess baggage – I was 5 kg over. Little wonder – look how much gear I took: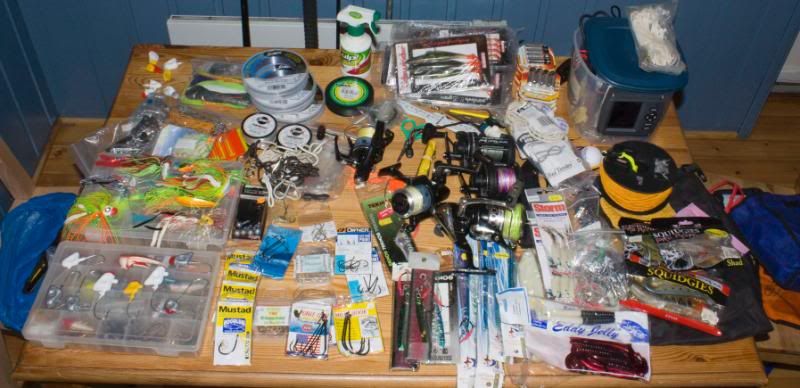 The irony of it all was that for 90% of my fishing I used just two lures – a mackerel patterned 6" sidewinder and a 125g pilk. I lost one lure in 8 days of fishing! Heres my battle scarred sidewinder – think I should retire it and put it in a frame!