Discussion Starter
·
#1
·
Went out with WBK last night, heading for Watermouth.
Got there ...
:uhuh:
Mark taken.
"Let's go to Broadsands, then!"
:uhuh:
WBK only brought too-light gear.
"Woody?"
"How nice of you to notice."
"No, Woody BAY!"
:uhuh:
wrong tide
"Lee Bay?"
:uhuh:,
[because ":uhuh:" is what the fish are saying lately when it comes to Lee Bay]​
So we were forced onto the sand, ending up at Putsborough, fishing in a bit of shelter from the rising winds for three hours up and joining a good handful of other mugs who'd seen the 17lb ray and the word "beach" in this week's North Devon Journal.
The others were strung around the bay from Baggy to Woolacombe so we didn't get to see how any of them got on, but one by one they drifted away with not a camera flash between them.
We didn't get a bite all night, fishing tight to Baggy or on the way down to Black Rock, and using worms, sandeel, squid & mackerel.
U n t i l . . .
:clap2::clap2::clap2: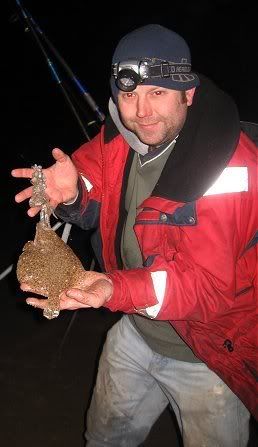 ... discovered on the end of WBK's massive ray bait of 3 whole sandeels and half a mackerel, as we wound in to pack up and go!​
So, another overwhelming success for north Devon's unstoppable mega-anglers.