Discussion Starter
·
#1
·
We set off from Queen Annes Battery on Stonefisher2 at 9:40am with Mike as our usual skipper.
He was a little nervous because his better half is expecting their 2nd child any day now. He was nervous in case he missed the fishing!!!
Really.
Within minutes he had to negotiate a whole load of "Boats with sticks"
who were having what appeared to be a race off the tip of the breakwater. Mike commented "who do you reckon is winning??" LOL. We had no idea!!
I warned Mike... "They're coming right for us... I think they're gonna attempt a tack!"
*Groan*
We made way straight for Eddystone where we were greeted with 30 boats who were not as lazy as us and had got up earlier. Either that or they didn't have Fluff driving a Rover 216 made of filler and fiberglass to slow them down. Oh yeah Fluff... thanks for driving :notworthy
We had hoped to have live sandeels but the strong easterlies and rough seas in the week prior to our trip had apparently made obtaining them impossible. We went armed therefore with "dead" sandeels, lively rag and lots of artificials.
We were soon into 3lb Pollack, 2lb+ Whiting and Cuckoo Wrasse.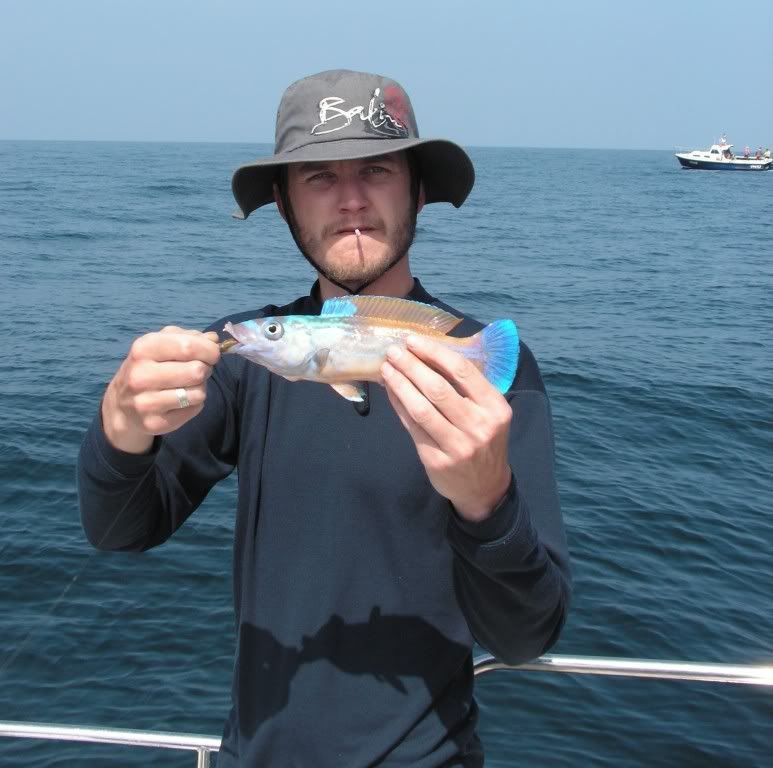 And Joe produced the better pollack of the day. He presents this specimen here complete with sandeel monocle.
Several large fish were lost. Rubbish!!!
I thought I'd learned my lesson when we went out on Paul Morgans trip and I lost a seemingly decent Ling. The hook snapped off a new Brian Fords (Fladen) pirk and I lost the fish!! So I replaced the trebles with new ones... guess what... they were from Brian Fords as well.
I have now learned my lesson.
Something really decent took the bright orange pirk I had been jigging and was nodding away. Get in!!! But as it was nodding and about half way up the line went slack. Awww Rubbish. I wound in to see the 4/0 treble had been completely bent out allowing the fish to escape.
I will NEVER ever go cheap on hooks EVER again!!!
Mike also got into something big that wanted to nod and hold the bottom. He was testing out his new Shimano Beastmaster Inline rod. I'm not sure of the model but he bought it light to make the fishing better sport. Well on this occasion the fish was big and Mike ended up swinging round to our side of the boat and tangled lines with me. We were worried my braid would cut through his nylon so we cut the braid and Joe helped to hand haul the line back up.
Mike was held there as the fish would nod away on occasion and I'm sure we all figured it was a cod. After about 5 minutes of holding it's own against Mike with barely any line gained it gave an almighty double pull and snapped off. Gutted!!!
Oh well at least joe pulled in this 13lb 6oz stunner!!!!!
Well done mate. That's one way to christen a new rod eh????? 1st fish a nice cod. Good stuff.
On the way home Joe opted to share his catch by feeding the freakishly long innards with a very small seagull!!!
moments afterwards Fluff decided to unleash his "mark of zorro" on Joes fingers with a filleting knife.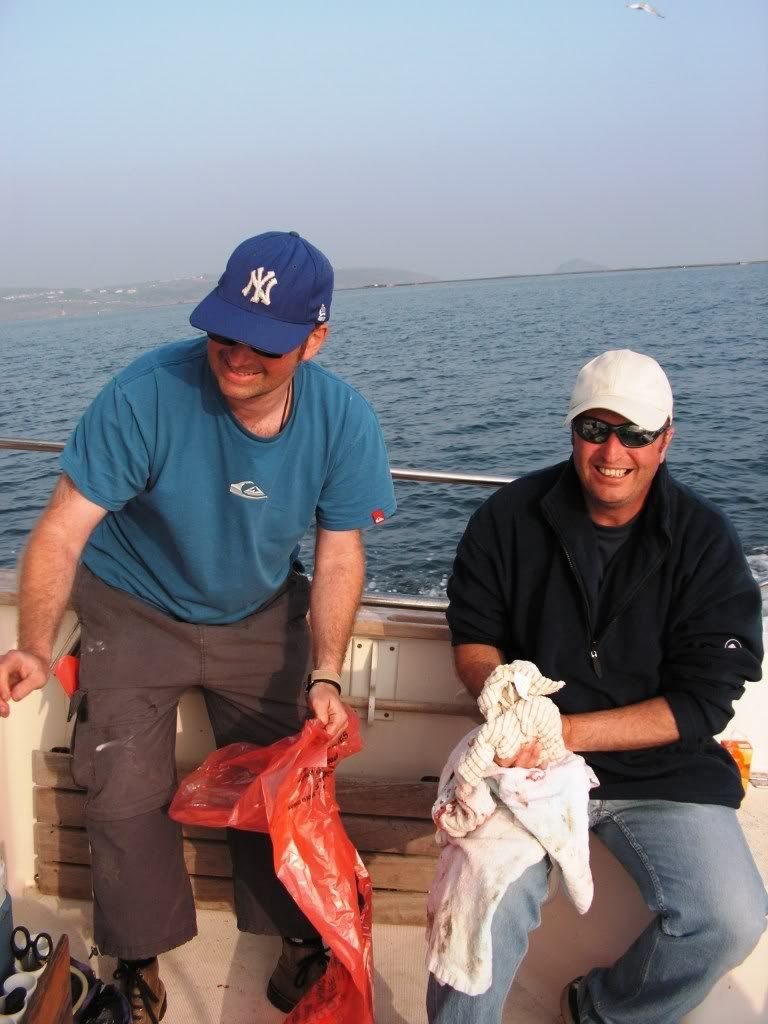 Well I got to put into practise my newly aquired 1st aid skills and fashion some bandages from a towel. After I had taken a photo obviously. Joe simply suffered a stab wound to one finger and a shave of meat from another.
Something else learned here. Never go near Fluff when he has a knife in his hand and you've caught a bigger fish.