Discussion Starter
·
#1
·
Last year before the family trip to Cornwall (which was class), i stocked up on some fishing gear. As i was in the shop i noticed a little pink fishing combo! I though to myself "Poppy has GOT to have one of those", so i shelled out the £10 for the little rod and reel. Not a bad little rod, its a shakespheare Rod with a Little shakespheare F/S reel loaded with 6lb line. Unfortunately i didnt get to go fishing with my daughter on holiday so the rod has been unused.:schmoll:
This morning when i got up poppy came up to me and asked where her fishing rod was. So i told her we would go fishing, bad move because she did nothing but go on about it for the next 2hrs clining to my leg and saying she wanted to catch a fishy!
So here are a few pics of poppys first ever fishing session. She had a small float weight which had the line passed through it a few times to keep it in place. At the end of the line was a size 2 hook with squid as bait.
Getting to grips with her new rod and reel
It was a bit too windy from where we started off so just for fun, we went to the creek which runs from the beach at hampton.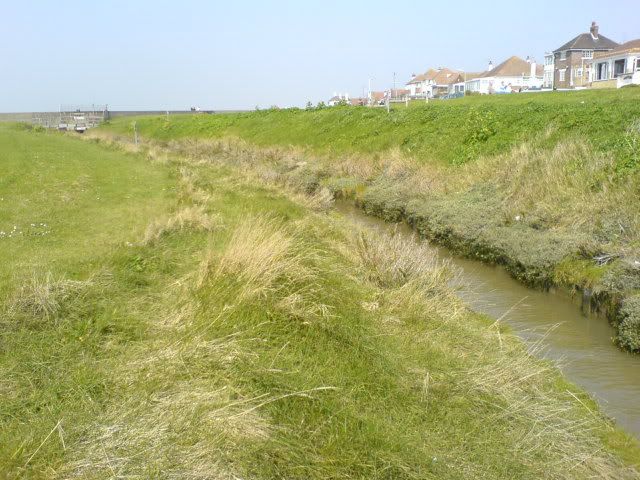 The creek which runs from the sea.
Just something i want to ask you guys on here. What do you think/if any, would go down this creek as it comes directly from the sea. Its very murcky and not too deep but there must be something there? eels probably!
Oh by the way..she blanked! Just like her daddy! We were only there for about 30mins as she soon got bored LOL. Ill soon get her more interested tho :blink: