Discussion Starter
·
#1
·
This is my first ever report, so is a bit of a narrative and pic heavy!
Having recently picked up fishing again since dabbling as a lad, I have just had my first 'propper' session.
Previously I have been mainly just spinning for mackerel at Slapton, just getting used to my rod and reel, working things out again. So this morning I was up at 5:30am with the plan to go and fish Prawle Point area on the incoming tide.
Arriving, it was obvious the wind was howling, and the sea was rough. As i was gonna be lure fishing, I treked for 30mins or so around the point, till I reached a few rocky spots where the wind was behind me casting out.
As I have never been to Prawle Point before in a fishing context, and not knowing the bottom I was fishing over, I decided to start out with my trusty Abu Toby 28g, to save loosing my pricey bass lures on snags the first few casts. After a few casts, started feeling bites, and wasnt long till I landed my first fish, a small pollack;
After returning it to the sea, I was filled with hope and excitement, that I had made the right choice of location, and was happy not to go home with a blank.
After a few more casts, a bite, and then the rod tip went over with force. Allowing some line to be taken, I knew I had hooked something much bigger than anything previous. Moving from rock to rock, reeling in bit by bit, I realised that if I wanted to land this fish, it would need a bit of bullying, due to the rocky crags and surf pounding in. Once it broke the water, I could see I had my first ever bass, the fish I have been wanting to catch for weeks! This one weighed in a 2 pounds 4 oz. This is my best fish so far, and the bench mark weight for me in the future;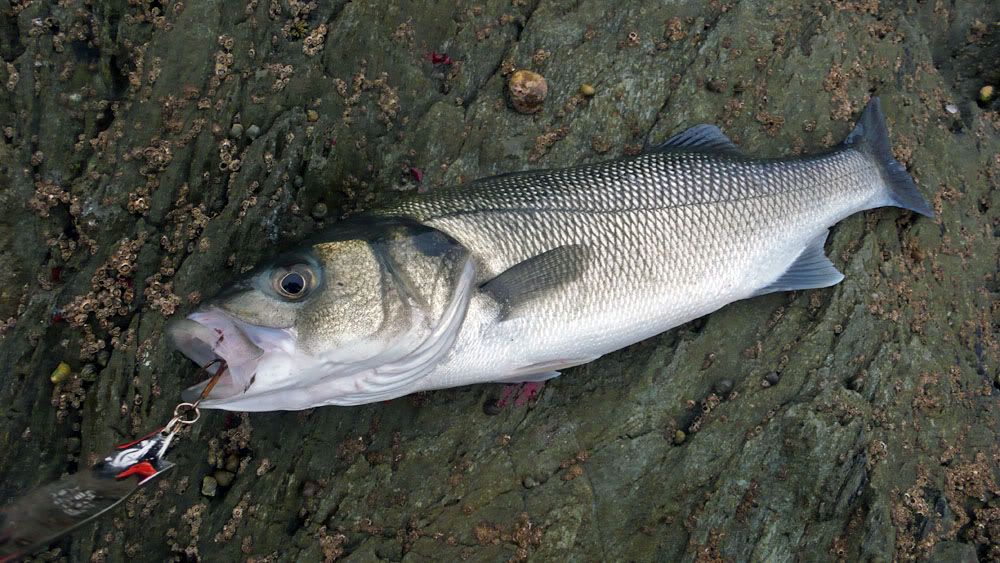 Excitedly I fished on, and caught another schoolie bass, and 3 more pollack.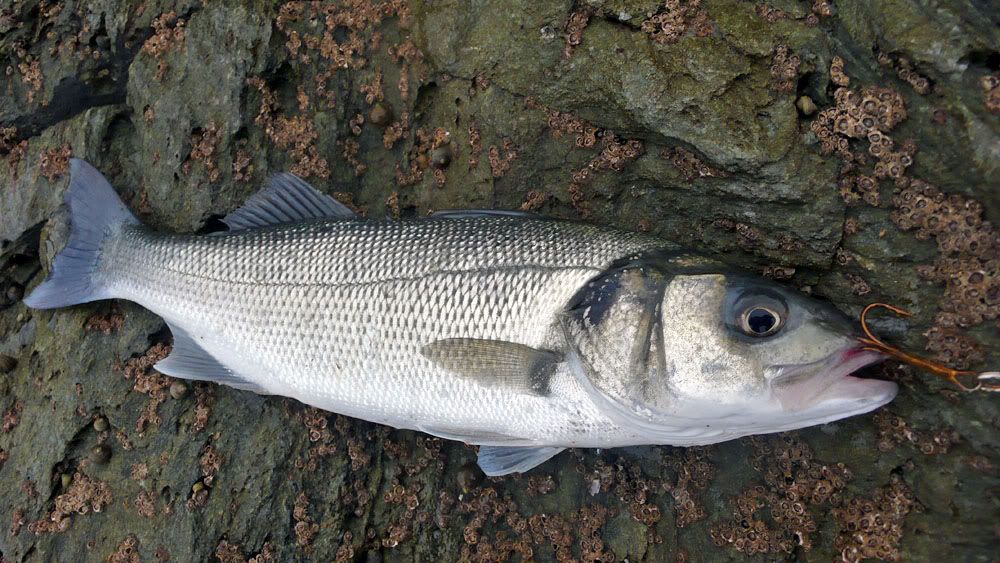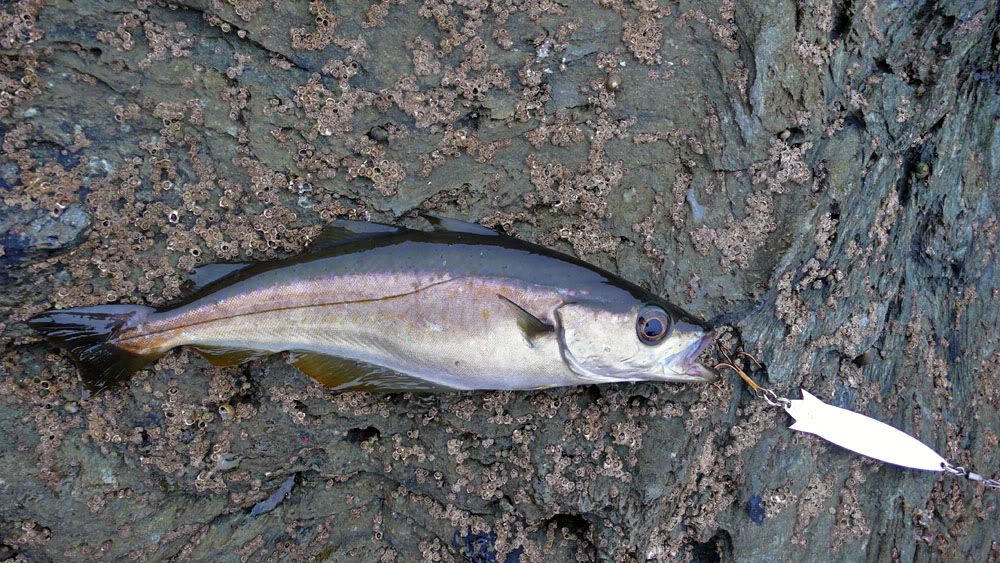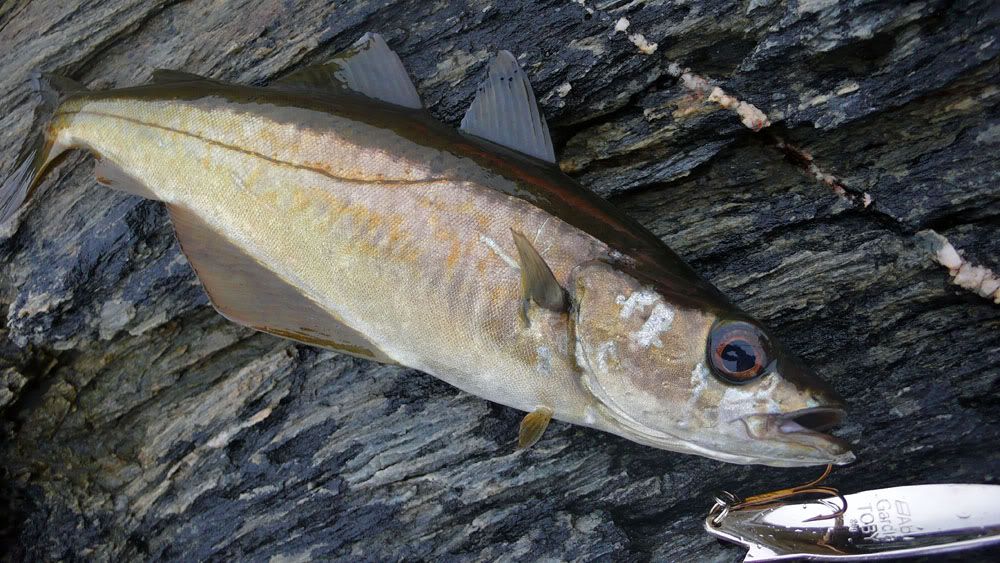 Kept the big bass for the table, but returned all the rest.
Stopped fishing about 9:30am. I have to admit I started off fishing feeling very underconfident of a catch, so was very happy with the results, and learnt a lot. All fish caught on a Mike Ladle Daiwa SureSpin MkII rod, Shimano Exage reel with 15Lb braid, with an Abu Toby 28g spinner.
To finish off, a few random pics of Prawle Point;
One mark I fished from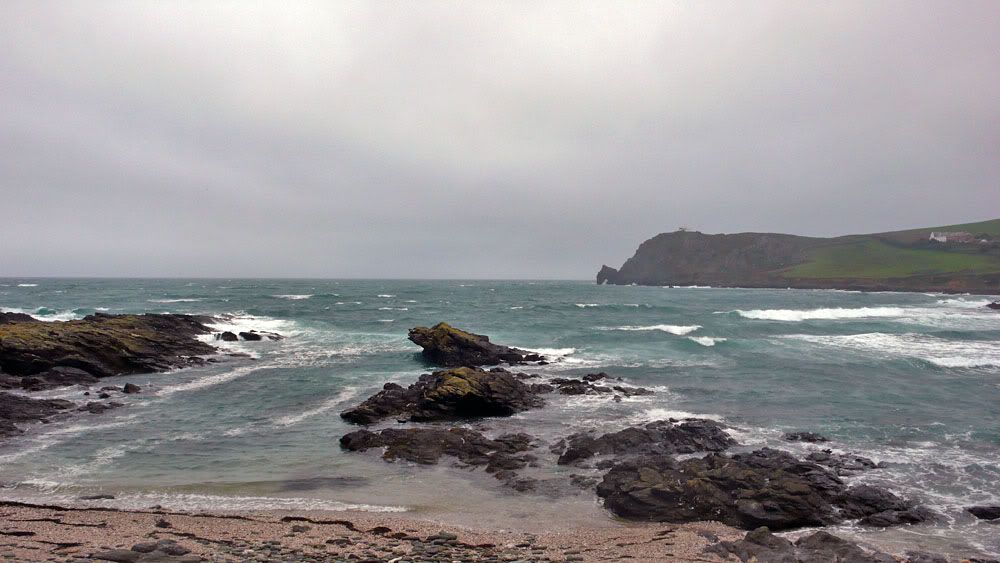 Prawle fairies at work...