Discussion Starter
·
#1
·
After my first good sesh out in the new Warrior last Thursday that I put a thread up about (5 bass, kept 2.....all on a big rapala), I took the mrs out for the day on Saturday for another go. Had some good crab, but even my usual best spots were producing nothing at all on crab... the water was a little bit clearer than it has been for a while.
Anyway, tried a couple of trolled rapalas and within 15 minutes had 3 bass to the boat (2 of them keepers) and all 3 on the big rapala.
Unfortunately, it all went a bit quiet again after that.
Anyway, armed with more crab I decided to try a new rock mark that I spotted while out in the boat so I had a pair of hours down there on Monday evening on the early flood. And by "down there" I really mean DOWN there.....quite a scary spot to get down to.
I tossed a crab out into this really good looking gully and while I laid the rod down for a while, tried a small rapala in the same colours as had been catching on the boat previously. FIRST 3 casts.... 3 bass between 40 and 46cm.... 2 of them taking within 3 feet of the rocks just as I was lifting the lure out!!
As I landed the last of the 3 the other rod with the float went berserk with something stripping line off the reel as it headed for the open sea... unfortunately off by the time I'd picked the rod up and got the line down.
So put the spinning rod down and decided to hang onto the other rod with a fresh crab on.... good job too cos this beauty had hung around.....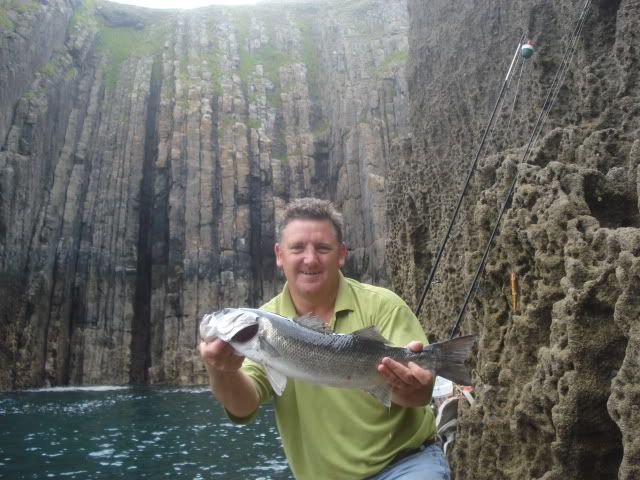 Tipping just over 5lbs on the scales. I think the commotion must have scared any others off because it all went quiet, plus there was a big seal cruising off the entrance to the gully soon after which didn't help, so I packed up with a good feed.
Anyway, in 3 trips (2 boat, 1 rockhopping).... Score Rapalas 11 - Crab 1 (at least it got the biggest one)....I would never have believed it, and nor would my Dad.
All the best...