Discussion Starter
·
#1
·
This story starts yesterday when I was still at work and realised that I'd left my hoodie at home. A quick text to Paul at Clacton Angling and a hoodie was reserved in XL. You can never have too many.
I finally got my work done and headed to the shop to collect the hoodie and bumped into Barry, who I hadn't seen in ages. Forty five minutes later and Paul was needing to close the shop, so hoodie was paid for and put on in readiness for the cool breezy night ahead. For the record if anyone in the Clacton area needs a nice warm hoodie, I can recommend them, it certainly kept me warm.
I got onto the pier and bumped into Dave and Terry who were just leaving. They'd been dogged out through the day and also had plenty of the little codlets that are around in plague proportions. As we said our goodbyes Dave gave me half a dozen left over sandeels. :thumbs:
I headed along the berthing arm which I had the entirely to myself. I set up and put one of Dave's sandeels and a squid into a DVice and chucked it out. I did a similar thing with the other rod, but instead of sandeel I put some frozen lug and squid in the Dvice.
I nipped to the other side of the arm and put my dropnet down to try and catch some hermits and walked back to my rods to see the right one nodding quite nicely, a typical ray bite. I lifted the net and brought it over in readiness. I gave it five minutes and started to reel in and there was a satisfying weight on the end. A short scrap and this beauty was in the net.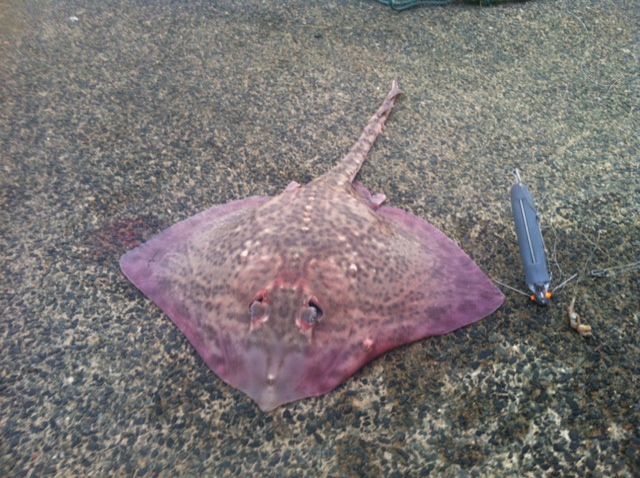 10lbs 8oz, what a result.
The dogs then turned up in numbers, along with pins, codlets and pouting.
Time was moving on when I saw lights and heard the unmistakable sound of tip bells. I decided it was time to go, so I picked up my left rod and started to reel in. I was almost in when my other rod slid up the tripod and I just managed to grab it before it see sawed on the top. The line was right downtide and something was pulling hard, not wanting to come in. One of the Chinese regulars wandered over and unpacked my dropnet for me and lowered into the water. After what felt like ages the ray surfaced and the guy said that it was only about four pounds, but I knew damned well that it wasn't. I netted the fish and when I hauled it over the side, the guy's eyes nearly popped out of his head and he was soon shouting to his mate to come over.
I weighed it and it went a very satisfying 11lbs 2oz on the scales. :thumbs:
Another guy, John had turned up and I took the fish over to him to have it photographed with me holding it. He's certainly not of the iPhone generation, but after a bit of tuition, he managed to take a photo of sorts, bless him.
I took another one on the deck to play safe.
I finally got packed up and headed home, somewhat later than I intended, but it was well worth it. :thumbs:
For those interested this is the kind of baits I was putting out there.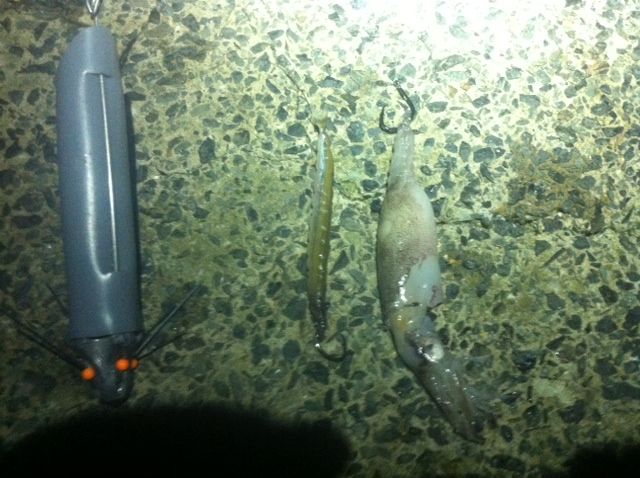 A fantastic night's fishing which i doubt I'll be bettering for some time.