Discussion Starter
·
#1
·
Met up with AJ, Jules, Rockhoppa and Glassback at our favourite Ray Beach near Bude last night. Pete and I arrived around 7ish to find the others already had baits out in the raging surf!
Quickly rigged up and lobbed a bass bait out and waited. Within about 10 mins a group of "emmit water pixies" decided to walk straight in front of me and with total diss-respect surfed right in front of me. One whale sized blob with a boogie board even had the nerve to lift my rig up and drop it in close!!!!!! Now I don't mind if they're there first - I'll wait my turn for the sea, but when our baits are out before any "dudes" then they should find an alternative!
Any way, after a word of warning from several of us, they still ignored the risks involved with grippers and hooks etc, so I pulled my line in and waited, and waited, and waited!!!
1 hour later it was dark and they had all moved off - AT LAST!!!!!!!!!!
Out went my rig, having missed the perfect time for the bass it was intended to target the rays
An hour after low my rod twitched, nodded and bent over
then screeeeeeeeeeeaaaaaaaaaaaaaaaammmmmmmmmmmm went the reel!!!
I shouted up the beach to AJ, Jules and Pete as this thing was getting the better of me and my head lamp had just died! A quick calm down and the battle was under control and soon after AJ landed the fish.
A PB small eyed ray of 9lb 10oz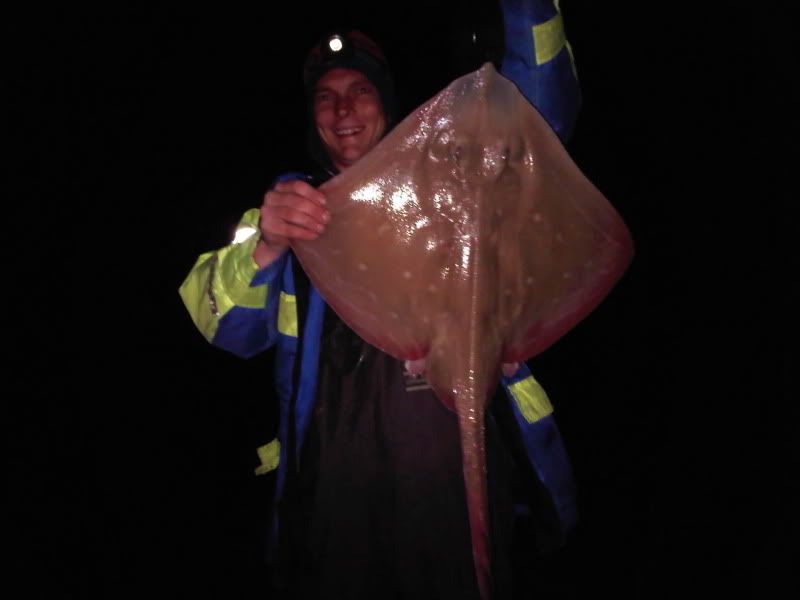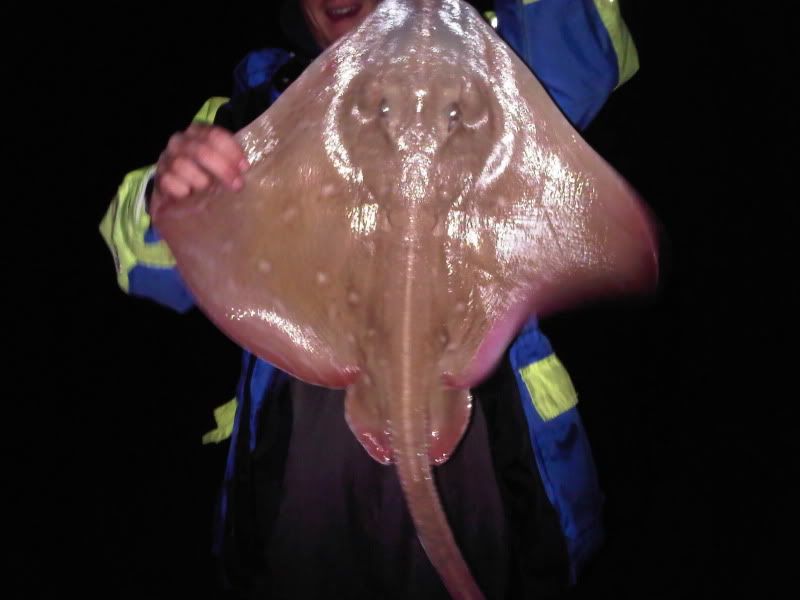 Now I promised Dad a ray for his tea and therefore I would get it weighed for the club (CADSAC) as it would be going for the table, prob fish of the month too, but being a female ray, I opted to release it and watched her go through the surf and back out - amazing sight
A local soon after had a 9lb 5oz, AJ was into a steady and constant flow of them too with the biggest going around 6ish prior to us leaving at 1am.
Pete, Ben and Jules found the fish too, with approx 12 ish fish between us all by the time we left. AJ and Jules stayed on, having the beach to themselves and were like ray magnets - hope you got another lunker
Thanks for an amazing night peeps, the start was horendous with the water pixies but the wait was well worth it. I'm still buzzing now and another PB to the list
Catch up again soon!