Discussion Starter
·
#1
·
After a hectic week of work and other issues it was decided that I would head out with Mick and Miro to relax and try and pick up a few fish, though with an easterly wind and flat seas we weren't going to hold our breath.
Conditions as were expected were brilliant for being out on the bay and very comfortable with the temprature in the mid 20's and no wind to speak of. We were all using similar rigs with the rods being Century Super matches, Tip Tornado Low diameter Super match and TT Sports matched with either Daiwa 7HT Mags or Penn Squalls.
Mick was using a simple rig with a swivel from his shock leader to a clip and his trace line running directly from the same swivel to a 3/0 , Miro was using a similar set up where I was using my usual pulley rig with 40 pound amnessia to a 4/0 circle . Bait was in the form of W.A Pilchards , squid and white bait as we were basically targteing the Pinkies that are in the area. The fishing was slow whilst the sun was up and it wasn't till later in the evening that we started to get a few bites. the action wasn't what we had hoped for but it was what we expected with the low tide and flat seas. Mick was the first into a fish and as expected it was a smally pinky.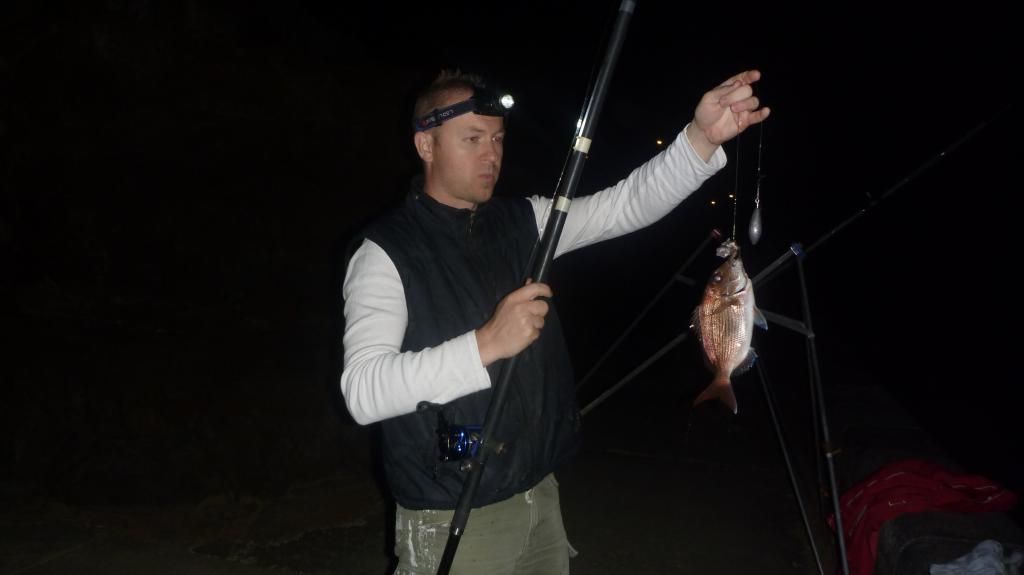 (
Mick with the first score on the board
)
Bites weren't comomh thick and fast and it was just a matter of relaxing and waiting for the next bite. I was the next one to get a fish abd with the circle hooks it was a simple matter of just waiting till the rod loaded up in the tripod to register that the fish was hooked up.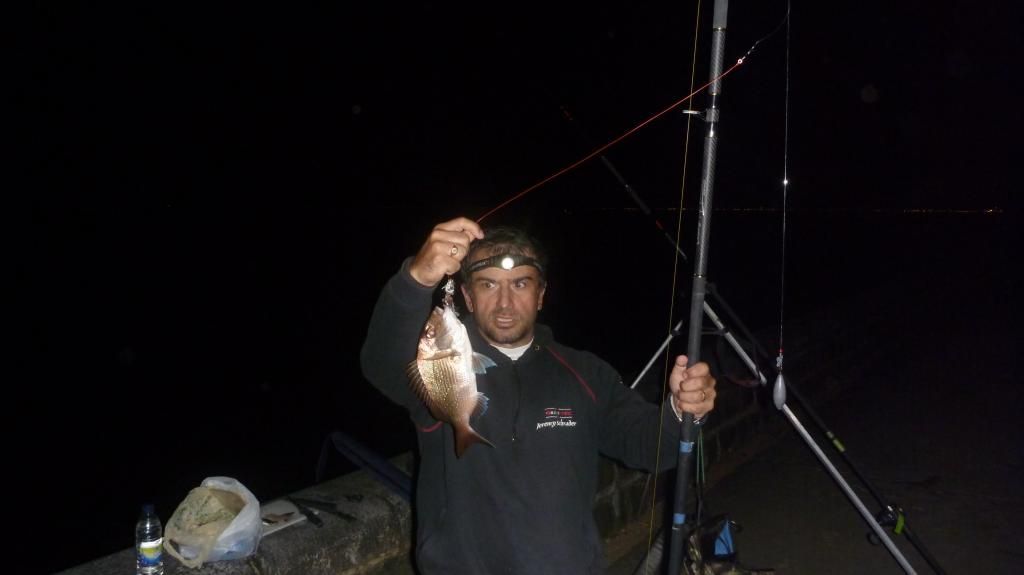 (
No I'm not angry with the little tacker
)
You can clearly see the rig in the above photo and I must say that I am pleased with the way the amnessia works with no kinking and it takes a good knot as well. I will be trying out the clear shortly as well though the red has proven to be no issue in getting bites on.
Miro got into the action with a better class of hit but as we were fishing a reasonably reefy area he had the misfortune of getting the lead the lead snagged up and having to break off.
Mick and I got a few more bites but only ended up with another couple of small fish .
(
Another Small one
)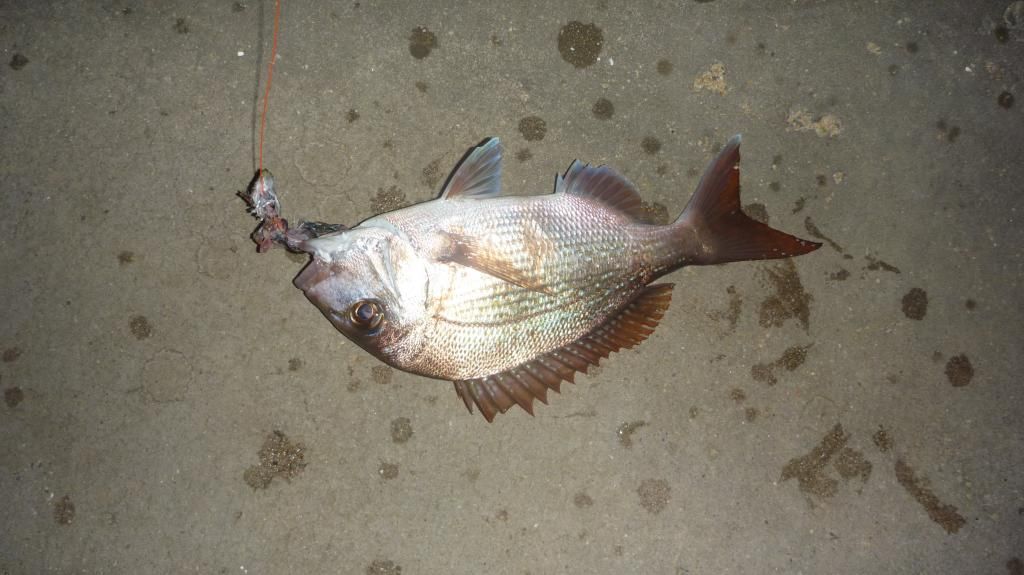 (
The 4/0 circle had no prblem pinning the little pinky
)
We fished till around midnight and could have happily continued on, but as we both had to get up early and go to work we would it up before the top of the tide which I feel would have imoproved the bite as the wind had also changed to a northerly and was starting to put a little chop on the water. still it wasn't a bad night and we did get a few to keep up the interest.
Will head out again on Thursday as work and family matters will keep me tied up till then.
Looking forward to getting out theough as soon as possible.
Regards