Discussion Starter
·
#1
·
What a great day today! Glorious weather and the fishing and company weren't to bad either! 6am start and seemed like summer had finally arrived,flat calm and warm enough for shorts first thing.Myself,Neil t Aquabell and Dave were the crew today.First mark showed a good few Roker and a couple of Hounds, and a million or so Dogfish,next mark a few small Bass and Roker,We then spent an hour or so looking for a wreck that was there Sunday,seems someone has stolen it since then as we could only find bits of it today! Not too productive here,only one Roker.
The time was now right to head into the sands into around 9ft of water and find the bigger Hounds.Jesus these fish know how to take off and fight all the way to the boat in shallow water! A small Tope also came abord with a couple of bigger ones screaming off and just bitimg through the trace.We weren't targeting them today so weren't fishing the heavy nylon trace line.
All too soon time to head away home.Hope this weather holds over the weekend and we can back out there to catch a few more.
Kristhefish and his boat 'Cloudnine' on his way out too.
Two fish on together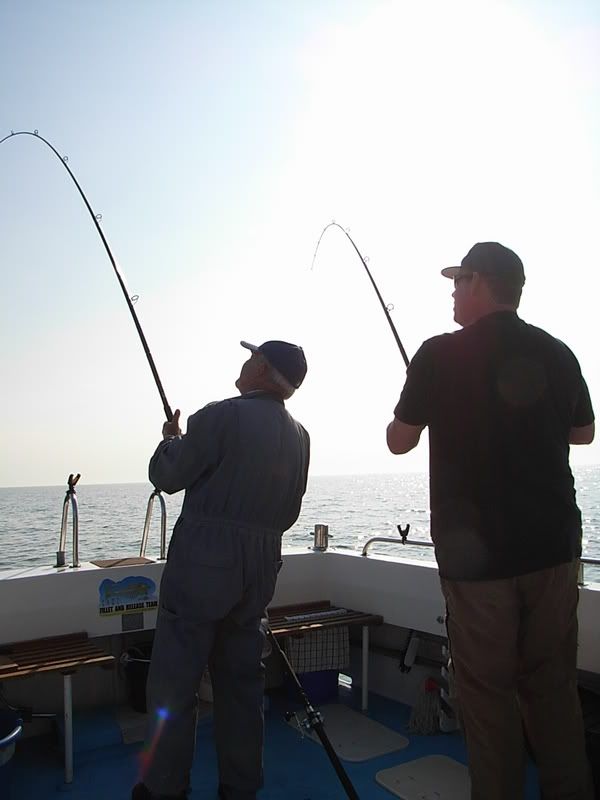 And the two fish!
Neil and a nice Roker