Discussion Starter
•
#1
•
4 am start from the marina.What a shocking morning,thick fog and by the time we got to the end of the river with then help of the plotter and radar a horrible Easterly swell with waves breaking everywhere was not we expected! It was touch and go whether to about turn or go the extra 8 mile or so and just have a look at what it was like.With water rolling over the bow and breaking on the windows I eased her back so at least Neil could make us a tea and we plodded through.Once we cleared the sands the sea had started to calm a degree and by the time we hit the Middle deeps apart from the thick fog it weren't such a bad morning.
The hook was down around 5.45 and we settled into some steady fishing with Hounds and dogfish hitting the baits.
Through out the day we moved 4 times,sometimes this is necessary to 'Chase the tide' and fish along and over the sandbanks,shallow and deepwater that makes up the Thames Estuary.After years of fishing these waters you tend to get a feel of where the fish will move onto once they have moved away from you are fishing.It's not something that anyone can tell you,it just seems to be in your head.Not all the time do we make the right decision as sometimes you may need to move 2 or 3 times in 30 minutes but you normally get there in the end.
The biggest hound today was to me at 14lb,not a monster and easy to beat as 20lb + fish are quite common but the season has only really just got going so a welcome fish all the same.Neil had a some nice fish also to 10lb and the only roker of the day (Im Roker Ron & he caught the only one!) He also managed 2 reasonable Bass and gave me one for my tea,he's a nice boy!
Some Hounds were kept as they make super eating fish too.Neil cleaned these on the way back and now all I have to do is eat them!
Anyone thinking of booking a charter then now is the time to do it!
This week I have decided to go back to chartering again,I must be mad,I said I wouldn't do it again but I fancy maybe doing just weekends only.It will be a couple of months or so before things are up and running but anyone who used to fish with me in the 80's from Southend on The Liz and Hazel and fancies a trip with me again,then keep watching WSF and I will post when things are in place.
Tight Lines
Neilt with a nice Hound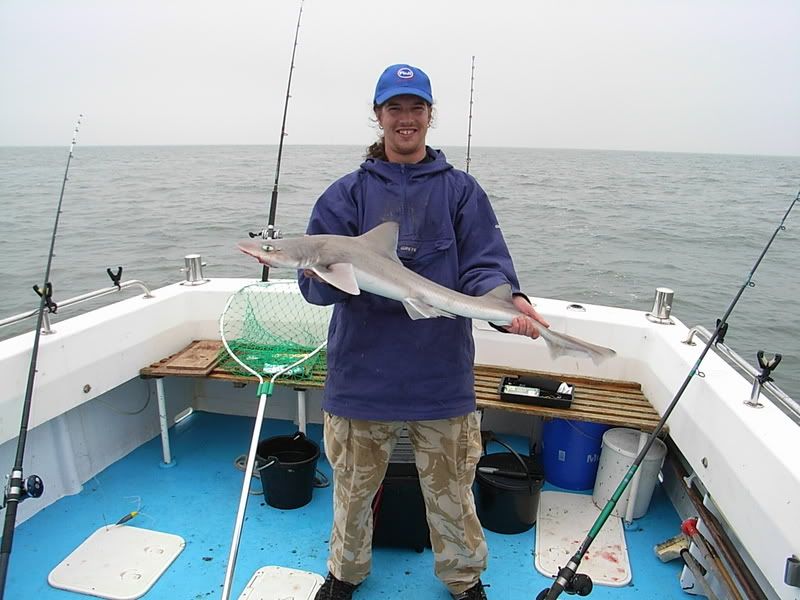 14lb Common Smoothound
Neil cleaning Cleaning the catch