Well it was my last chance to fish the Mog on my curent stint over there so was quite looking forward to it. The mottley crew I was taking over to Logan were a bit wet behind the ears and had no gear so I had to provide the lot !!! The team was me,young Snatcher,Darren,young Jack(aged 11) and Ryan.
I had a spot south of Logan in mind as long as it was not raining!!! Plan B was to take the squad bassing on the east side.
Well Friday arrived and the weather was dry with little wind. Darren,Jack and Ryan arrived at my van on the Clash site at 11.00am,two hours before hw. Things were looking good. Darren bought some rag at Ardwell marine and I had dug some lug and knocked off some limpets (a most underestimated bait!!!) on Drummore beach.
Darren and crew had never been to the MOG before so I took them via the Killumpha to show them the wild boars on the way to Logan. The chaps were fair impressed with them,especially with "Big Daddy"!!!
We parked up at Logan pier and yomped south to our mark. Young Jack was not impressed by the "Leap of Faith" but I helped him over that no bother. I set the 4 of them up with float gear and decided not to fish myself as this squad needed some serious babysitting
Young Snatcher(Chris) was first in with a wee wrasse,it was the first one he had ever caught. Excellent start as he got that bite within seconds of casting in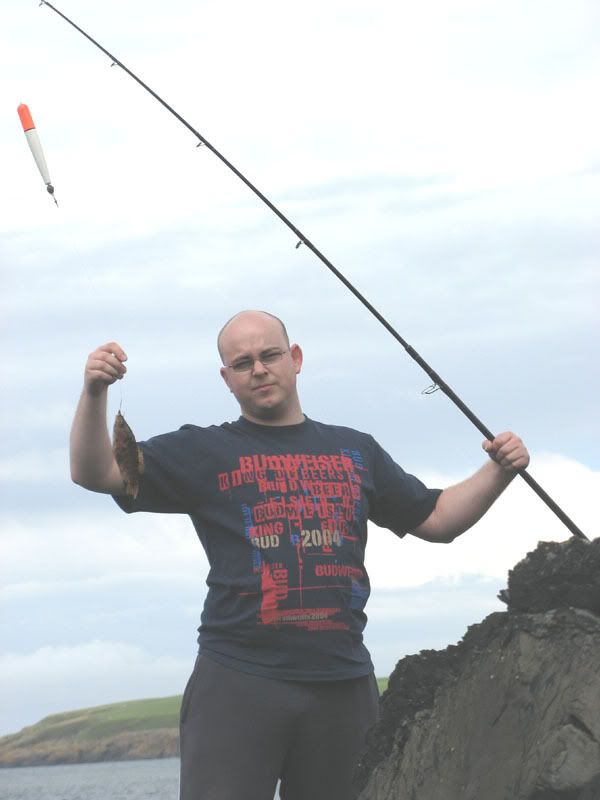 Nothing much happened for the next hour until Darrens float zoomed off. Now he was fishing with my mullet gear and the momo was only 5lb ! I told him to take his time and he got a really good fight on the 12' float rod. Eventually I handed it in for him a pollack of about 2 lbs. He was well chuffed with it and it went back in no bother.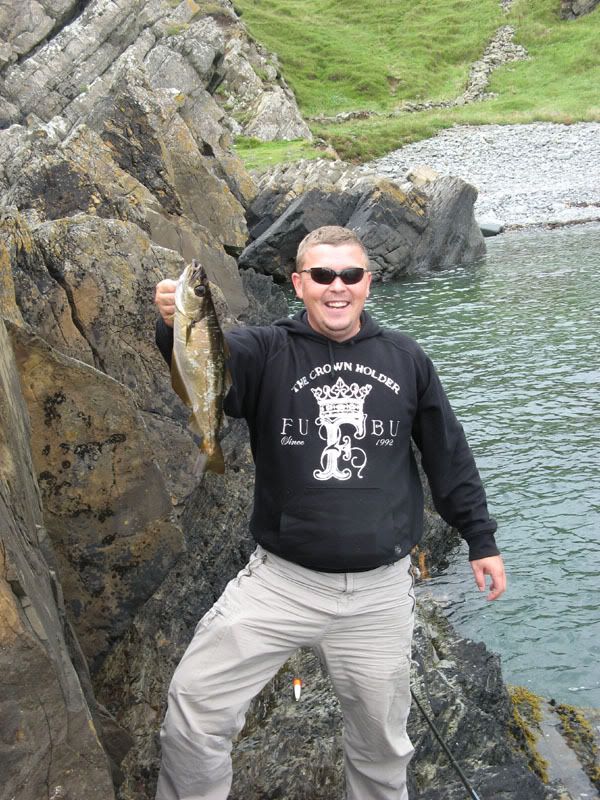 Again things went fairly quiet and I was watching young Jacks float iintently,really hoping he was going to geta fish. It was not to be. Darren was in again with his first ever wrasse. After a quick photo it went back in.
I took over young Jacks rod,the plan being to hook a fish for him and pass it back for him to bring in . I must have missed 7/8 bites and the culprits were small wrasse as they had taken tell tale bites out of the llimpets.
Chris was then in again with another wrasse,this time a bit bigger about 1.5 lbs. At this point the heavens opened and we decided to call it a day. I was not looking forward to the scramble back over the now soaking slippery rocks. God,it was like walking on black ice. We all helped young Jack over the "Leap of Faith" and we arrived back at the cars soaking but happy as we all had enjoyed the session. I got as much pleasure out of the day just being sensai.
Darren,Ryan and Jack said that the fishing experience had been a real roar and would come back and do it again. Great stuff
I am sat here back in Whitley Bay knocking out this report and suffering from the "Mull of Galloway blues" - I have only been away from the place 4 days as well!!!!
Well have left young Snatcher and his family in our caravan on the Clash site to enjoy their holiday.I just hope he catches some fish on my gear.
This is your roving MOG reporter signing off till next time :whistling