Discussion Starter
·
#1
·
Hello
What a fantastic week we have had at Skarnsundet Fjordsentre. The cod fishing has been up to its usual great standard with Straumen slipway and Stus points producing double figure cod on most sessions. We have no seen many Cod over 20lb in the February period like we have in the past 5 years but I do think this is down to it been the warmest winter in 30 years!
Dave with some quality cod from Stus point!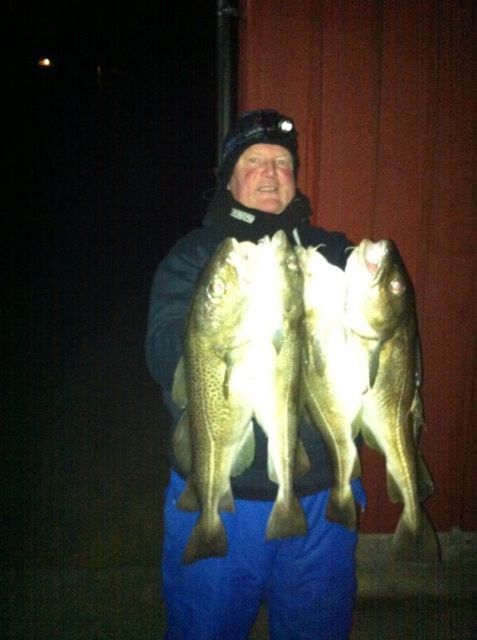 The high light of the Welsh Warriors week was our day trip up to Einvika were the boys wanted to try for a halibut. I took them to a mark I had been fish over the past three in search of some monster flatfish. I have four good marks for Halibut on the coast, which is about 1.5 hour drive from Straumen. Two of the marks fish on the flood and two in darkness. A the tides were flooding in the daylight I choose the Einvika mark. Knowing from previous experience that the halibut mainly feed over High water and its possible to get multiple runs in*a short period, we got there at Low water. This would give the lads some cod fishing up to High then the chance of a Halibut over the top.
We were not disappointed! The cod were coming in steadily all day with the biggest cod falling to Steve at 16 lb.
Tension was mounting as High water approached, Andy's ratchet was the first to scream away, resulting in a nice 14 pounder. His first ever halibut so we were well chuffed.
After casting back out 10 minute later It was off again but this time there was no sign of it stoping! After a 10 minute battle the Monster flatfish surfaced. I was quick to set the gaff into a 63lb Monster. Congratulations Andy, the fish of a life time mate!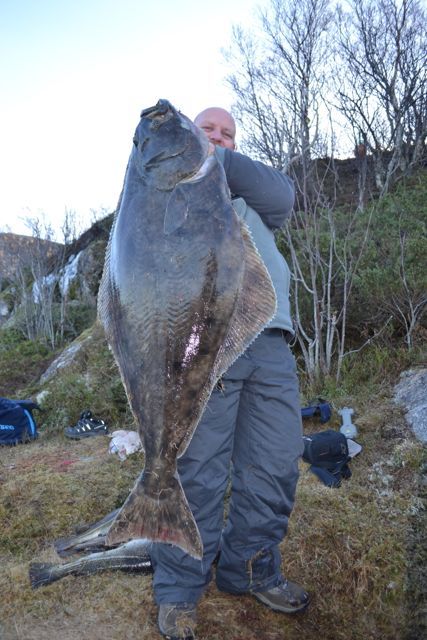 Check out the video…
https://www.youtube.com/watch?v=RKeGyw1DMIw
I always thourt it was possible to catch a halibut one 100lb from the shore in Norway and now Im certain!
Challenge excepted….
Phill
Nordic Sport Fishing
[email protected]