Discussion Starter
·
#1
·
Before i say anything about the trip i would like to say a big thank you to old salt (Bill) and his mate Willie for taking me out and showing me that there is fish in the water.I was begining to have my doubts after past few sessions.
It was an early start left St Andrews harbour around 05:00 and headed along the coast of Fife they knew where they were going and where the fish should be and they were right.We first went in the hunt of mackies and found them no problem my only three casts for them brought up 10 Bill and Willie were right into them too,soon had plenty.Then it was in hunt of cod i started slowly most of my cod coming on lugworm,i also had squid and sandeel baits,Bill and Willie were outfishing me Bill with his lures and Willie with his feathers topped with lug.The two of them then started hitting pollock it wasn't till near thwe end of session that i was getting any(Bill let me borrow his rod with his lure that i can't remember what it was but it certainly caught the pollock).I managed 3 of these.I was first to haul up a nice looking wrasse only the one Willie seemed to be the guy for catching wrasse he had a few.There were a few coalfish caught too.I managed to get my very first ling never caught one of these before it was my only one not sure if any others were caught but made my day.I also caught a decent size short spined ss,.totall catch for all 3 of us not sure but cod 30+ quite a lot went back mackies 20+ pollock that was easy double figures the way Bill was pulling them out.A few coalfish,wrasse about 5 i think,1 ling1 ssss.
We did have a problem part of the way through the trip as a creel line that none of us had spotted wrapped itself around prop.The marker was cut free and got the other end cut.On driving of there was a knocking sound under the boat at prop so there was still something attached.Another boat came along to help but he couldn't see anything.We headed of again and heard knocking sound again.Bill decided to get in the water it wasn't exactly warm either and try and cut it free but couldn't manage,we then headed for the beach.We got through creels and rocks to get into shallow water about 4ft where Bill managed to get the piece of rope of 2ft of rope and a knot in the end caused all the problems.Once this was sorted we were back to fishing again.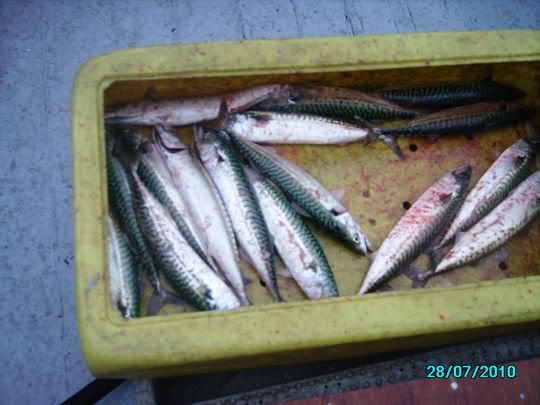 Loading up with mackies.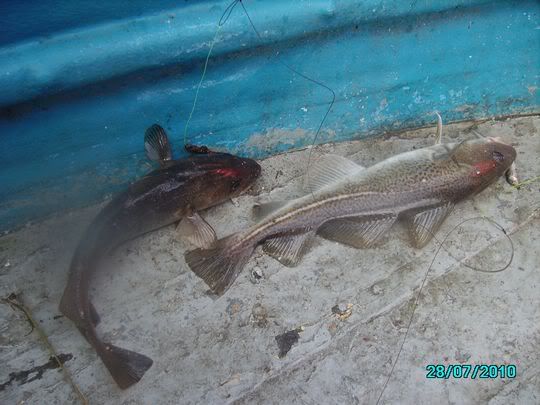 My cod 2 at a time.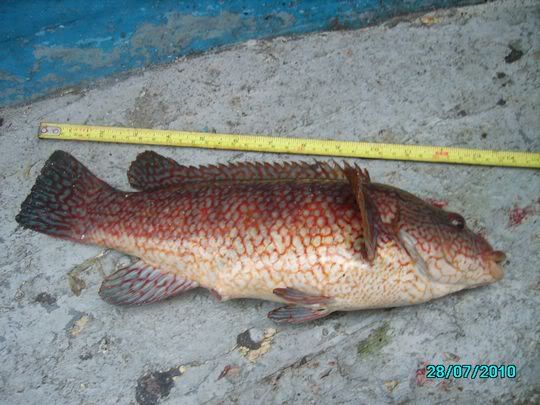 My only wrasse ballan or goldsinny not sure wieghed in at 11/2 lb.
Lovely colouring of my ssss.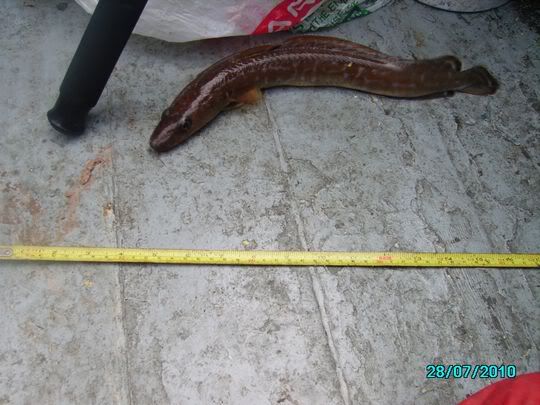 My very first ling.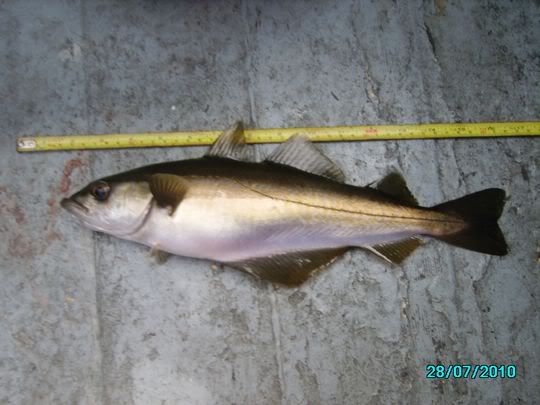 My pollock 1 of 3.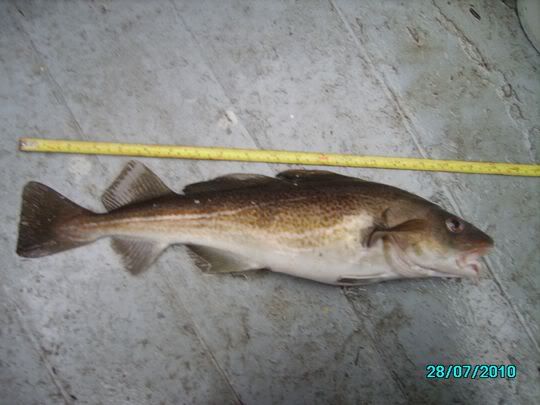 One of my few cod.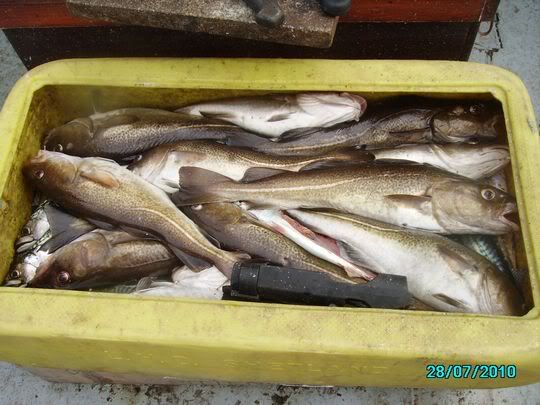 Box of cod filling up.
My total catch for the day.cod 12,mackerel 10,wrasse 1,coalfish 2,ling 1,ssss 1,pollack 3.....4 new species for the year..Now where are those plaice hiding.Once again ty guys.