Discussion Starter
·
#1
·
Location: Bude, North Cornwall
Date: Sunday 14th October.
Vessel: Team Shed
Skipper: Dean Cork
Target: Bream +++
Anglers: Dean, Offy, Me
The window finally presented itself after a week of 'will it' 'won't it'.
We met Dean at first light and stepped aboard. We steamed out for 10 minutes before dropping the anchor and watching the beautiful sunrise. It was first frost in North Devon but the sun soon started to warm things. We watched this anvil cloud slowly build and build as it headed away on the offshore and it proceeded to dump masses of rain far out to sea.
We rigged up for bream and from the off they were smashing the squid and maccy baits.
Good fish up to 2lb 12oz.
We were returning many fish that would normally be kept but we were out for the day and it was awesome to see them go back.
Dean was enjoying fishing rather than skippering and he was smashing them too.
We were bringing in double shots mostly around the 2lb size with the odd smaller and occasionally larger fish. All were fighting hard and just starting to fatten up. Perhaps a little late to do so this year.
Si mixed it up with this wrasse. Any ideas what it is? I think it might be a very pale, male Rock Cook. Definately not a Goldsinny, Ballan, Corking or Cuckoo.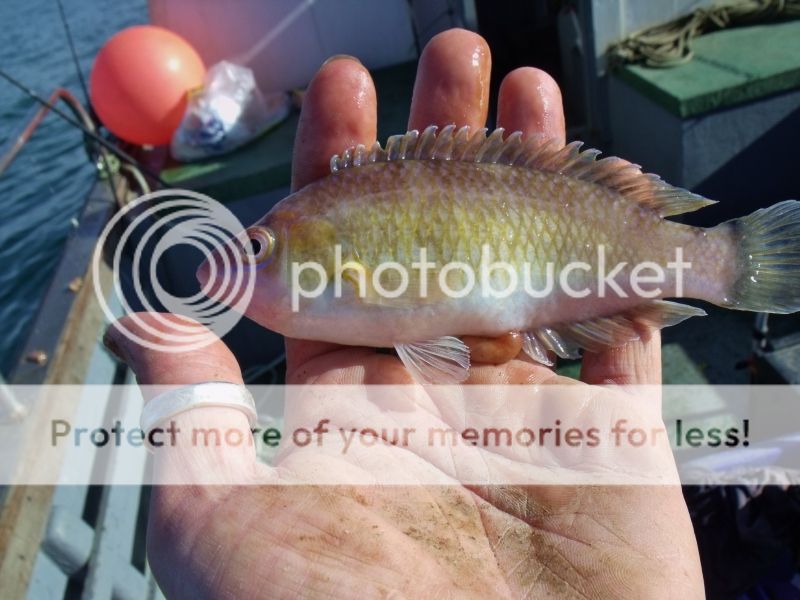 We had ballan, quite a few huss, Ling, lost a big snake,,,
Then the Burnard showed up as we moved slightly on the anchor.
Si had scad.
The poor Cod, Pout and Dogs were low in numbers but there too.
Maccy were occasional throughout the day but generally small and Si enjoyed most of the day being a fish puppeteer with his bream rod one side and using Dean's tried and tested method of freelining shads for Pollack on the spinning rod.
He was hitting fish like thios throughout the day. Keeping some but throwing many back. Dean was also bringing them to the side as well as we passed the net between us as there was barely ever more then a handful of minutes where there was not a 'fish on'.
We never used more then 6oz of lead in the biggest of tides and in 100ft of water this is fishing light inshore waters at its best.