Discussion Starter
·
#1
·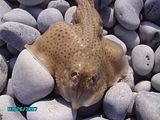 thought i would try the knap today as i finished work early and the weather was so nice:sun: . armed withh 3 packets of sandeel and a box of squid, i arrived down there for 12:00 to be met by blue skys , bright sun and the sea like a mill pond.:fishing1:
first cast produced what i think is a spotted ray( the darker ray in the pic) of just under 4lb.:clap2: managed 2 doggies aswell by 16:30 , then on the last cast hooked into another ray ( defo a spotted) just just over a 1lb & 1/2:clap2: . ive had a look in my collins pocket book and there are no rays as dark as the one i caught first, so im thinking it could be a male /female thing.:g:
overall a very good day, all fish were caught on sandeel and returned to fight another day!