Discussion Starter
·
#1
·
Went to Woody Bay last night, fingers crossed all the way that it would be free, with the ink still wet on the big glossy feature just out in the angling press. It looked good, until I rounded the last bend on the jungle track and pulled up behind the only other car for a hundred miles, with two blokes in it looking ready to get out.
B.O. Locks
.
But when they didn't move straightaway I thought sod it and jumped straight out, grabbed the bare necessities of gear and headed down to the mark. No response from the other car, and when I came back for the rest of my stuff they had moved up the hill about 50 yards but were still there.
I didn't peer too hard in case I saw what they were doing inside. :uhoh:
I'm just glad I didn't see their rods
...
So I got set up for a first try with my own new rods, but I found it took me several attempts just to land the bait in the water — before I toned it down a bit I kept snagging the battlements of Caerphilly Castle!
After a couple of hours of nothing happening, though, right over the toop of the tide, I began thinking I was wasting my time. I dropped one setup down to a super-light 1-oz setup (even this flew!) and threw out a sandeel, and on the other rod worked through mackerel, squid, peeler, lug, maddies & white rag, all without a touch. I had a fine old time sat relaxing, watching the meteors, but the fishing was the worst I've ever had there. Had really bad luck on the snag lottery though, jamming up on almost every cast and losing a lot of gear.
Finally, though — one decent bite on the sandeel ... proving that the secret of good blanking is, of course, to
not
quite
do it: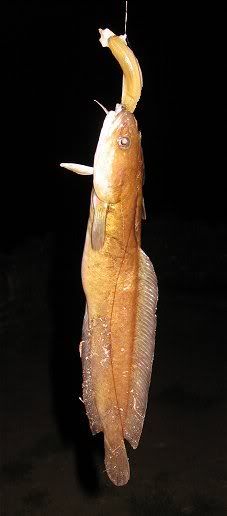 ​