Discussion Starter
·
#1
·
hi all, me and scott have been out on the boat for the last couple night, on a rampage to go
fishing
It all started of with.....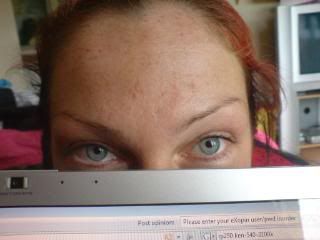 please can we go fishing scottttttttttttttt?????
and i got my own way as aaron had the kids for 2 nights and scott had 2 days off of work :tu:
The plan was to spend 2 night fishing around the isle of wight, but as every one knows, the wind was just compleatly against us, so change of plan, and we had to stay closer to home
3 kids less, so i met scott down the boat yard, cos he had to sort out the electrics on his boat, or there be no fishin for me
he gets right into his work ya know haha
sorry scott
we didnt get out till late, so we set off in the itchen, cruising around to see where bouts we were gonna fish!
well that night i think it was greenlands bouy, scott had a smut pup haha
and i caught nothing
we parked up in the itchen, ad called it a night
next day we headed back to the hamble, as i needed a pee soooooo badly, and we managed to loose the bucket, and i wasnt going in front of every one in daylight lol :
once i was sorted out, i spotted mullet, then wanted one, so scott said, ok ill show you how its done haha
took us to one of his little hot spots and,
omg
there was loads of them
we got them feeding in no time
which resulted in.........
scotts 1st of the year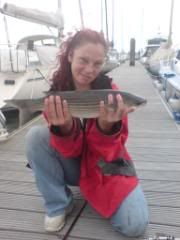 my first of the year :happy: luv itttttttttttttt lol
scottts second missy mullet of the year :happy:
in the evening it was p**sing it down, so we tied up, shelter on and stayed ther for a while lol
we were gonna call it and quit, but rain eased and we just had to try a coulple of other places...
we went around by the docks, resulting in my first sole of the year yay, also first to scotts boat again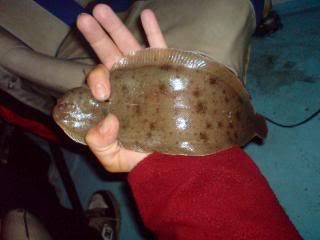 well chuffed :tu:
scott took us for a look to see if we could get some maccis, as ive not had one of those either lol
well the other place we went at the docks, we got just that lol
thats our bait sorted, so whole fillets baited up, we both got a massive bit at the same time, so we struck, and reeled at the same time..... but we ended up with no fish :'( :'( scott will explain this one lol
got told to move on, but a lil while later, we came back again :look: :look:
then rebaited, and scott had a massive knock, great fight too from mr bass
weighed in at just over 3 lbs :happy:
then it was my turn, crackin bite,
bass on
never felt a bass run and fight like this in my life, i knew if i landed him, he was my
personal best
ive been after since i started out
guess what?????????????????????????/
i bloody well got him, 5lb on the nose, avvvvvv it, still rushin now!!!!!!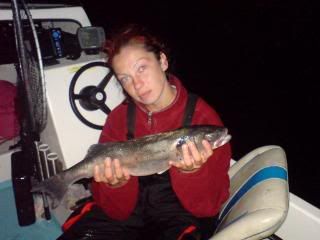 soz bout state of me, but it was like 3.45 in the morn haha
well by the time we got told to untie lol, we were shattered and looked at the time and it was 4.15am today lol, decided not to anchor, but to go back and get some shut eye!
went back local in the hamble today, scott had bream and a great big wrasse lol, i had 1 wrasse
and fisher dan had bream and wrasse, cos we see him on hamble quay, and grabbed him to try n get some mullet, but got moved on lol
great time out the last couple days/night, pitty it had to come to an end
home now, with loads bacon left for some more butties lol, till next time
tight lines :hungry: