Discussion Starter
•
#1
•
NOT
:uhuh:
Got to Putsborough at 9:30pm. There were a few lights on the beach. I walked to my chosen mark and started fishing at about 10. The fishing was so enthralling during the last hour out and first hour in I started making traces. Once the tide started to push harder (and I got fed up with trace making) it was time to have a walk around to see if anybody else was catching. Well it didn't take long to find out that everybody else was having the same luck as I was, so back to the motionless rods. Then at 00:45 excitement the person next to me landed a 4 1/2lb ray:clap2: . After talking to him I returned to my rods with a little bit more enthusiasm than before. Now as I have already mentioned I was using two rods, the zippy had sand eel on it and the moonracker had mackerel. At 1am my zippy nodded then the tip bent over yes thinks I RAY. I pick up the rod feel the fish pulling I dont strike I just wind into it theres resistance the fish even takes some line, after a few minutes the fish is at my feet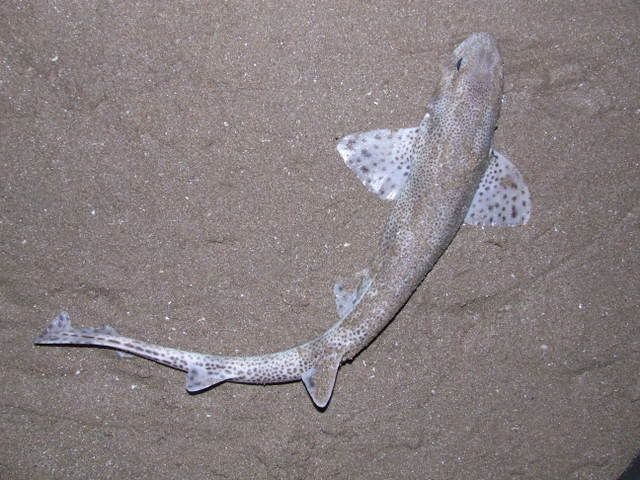 yes a dogfish to sand eel. After a photo shoot I put it back and cast out again. Just as I was getting settled the other rod twitched I reeled in but there wasn't any weight to it. Then out popped this saucer
yes Turbot to Mackerel.
It actually doubled its weight when it took the mackerel because the bait was as big as the fish.
After another hour and a half of inactivity I packed up and had a long walk back to the car on very soft sand. On reaching the car I found out that the people fishing in front of the car park had had two ray of 2 and 3 1/2lb.
:giveup: Oh well maybe it will be my turn next time (I cant go another year without catching a ray).......................(can I ??????)