Century Kompressor Super Sports, Penn Mags, Sloshes
Discussion Starter
·
#1
·
me and my dad decided to give the lighthouse a go as the rain had stopped and there was no wind at all. we got there for 3 hours to high tide and was planning to fish till 7:30 as this is 1 of the marks we did not want to fish in the dark because of them horrid boulders! armed with macky, sandeel and squid and my dad had some peeler crab. first casts in the water and on my first cast on the 1 rod i pulled in a whiting around 8oz. as an hour passed my dad had 2 doggies over 1lb 8oz each and would of been 3 but it spat the hook on the surface. all fish coming to sandeel but 1 to crab. i then pulled in to a doggie which had alot more weight to it than 1 which ended up with someone elses rig and leader with a nice doggie still alive and kicking attached which had been there a while because the hook points were rounded off. the rig had bright orange leader, pulley pennel with a yellow impact attached to it. on the previous cast on the other rod i had a lovely knock with good solid nods on the rod tip and when i struck into it it just went solid, after a few good pumps of the rod the fish was coming, we both thought that i could been into a tidy ray but then my luck stopped when it finally found the boulders closer in and jammed solid. i then put the rod back in the stand for 5 with the rod still knocking then and i tried to get it out and ended up pulling for a break and the weight started moving later snagging up again and lost it all - gutted!!!:schmoll: :uhuh: next into action was my dad with a good solid thump on the rod and hooking a decent fish which later after a good hard scrap landed an eel estimated at around 8 - 9lb span while he was walking back up the boulders with and snapped the 80lb hooklength and it then fell into the boulders into the water and gone...... nevermind at least we had seen it......
overall as the session come to an end my dad pulled in another whiting of 8oz and decided to call it a day as the wind really picked up even though it was directly behind us........
end results were:
me - 3 doggies and a whiting.....
dad - 2 doggies (would of been 3), whiting and a conger roughly 8 - 9lb.....
overall a very nice session with the fish biting and some biggies lost! :clap2: :clap3:
ALL FISH RETURNED ALIVE AND KICKING TO FIGHT ANOTHER DAY......
some piccies of the session.....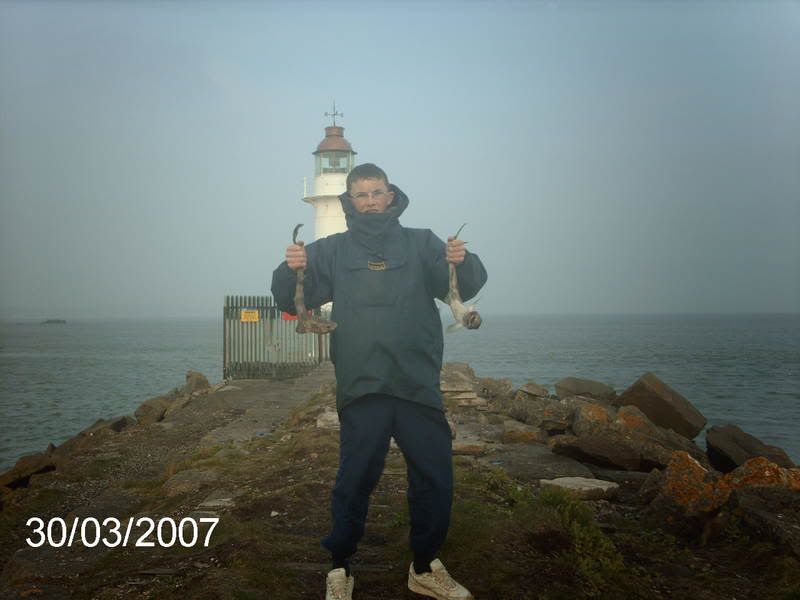 2 OF MY DOGGIES.......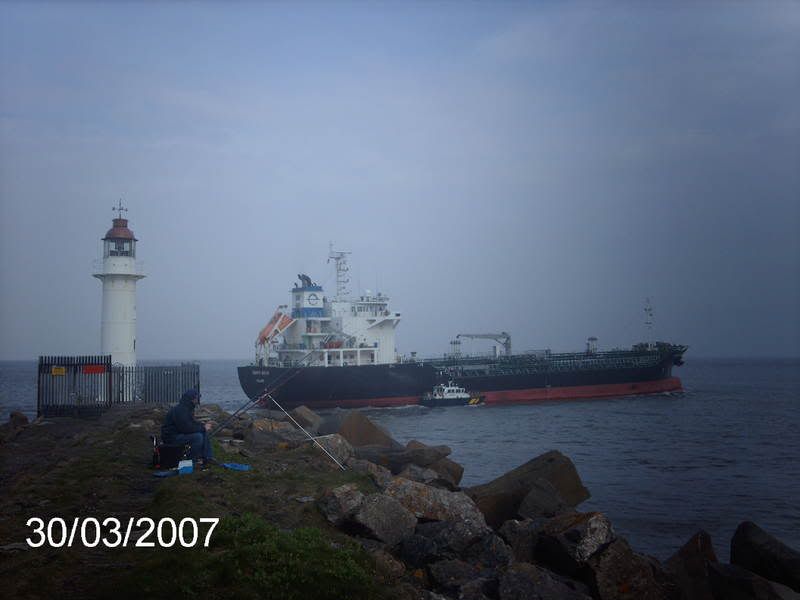 BIG SHIP GOING OUT TO THE DEEP WITH PILOT BOAT.......
tight lines and all the best,
steffyenck.