Discussion Starter
·
#1
·
Hi all, first post in ages so apologies ive not been out for ages,
I wasn`t planning on fishing this week but the boss at work said do you realize you still have three days leave left to take this financial year, use it or loose it. I told him my wife couldn't get any time of so he said bugger off fishing then. I didn't need telling twice
Over the two days I planned to try for my first bass of the year one day then first ray of the year next, not to be, the weather forecasters waited for me to book my leave before dropping this gale on us.
After studying the maps and the forecast decided on a couple of marks on the north east of the island which should put me under a cliff with the gale going over the top.
First up on Tuesday was Caim no wind at all down the bottom but it was howling over the top, small swell but the sea was the colour of cocoa. The usual winter fare followed with a few whiting and doggys. a nice jaggy bite was a better fish and soon this Huss of about 6lb joined me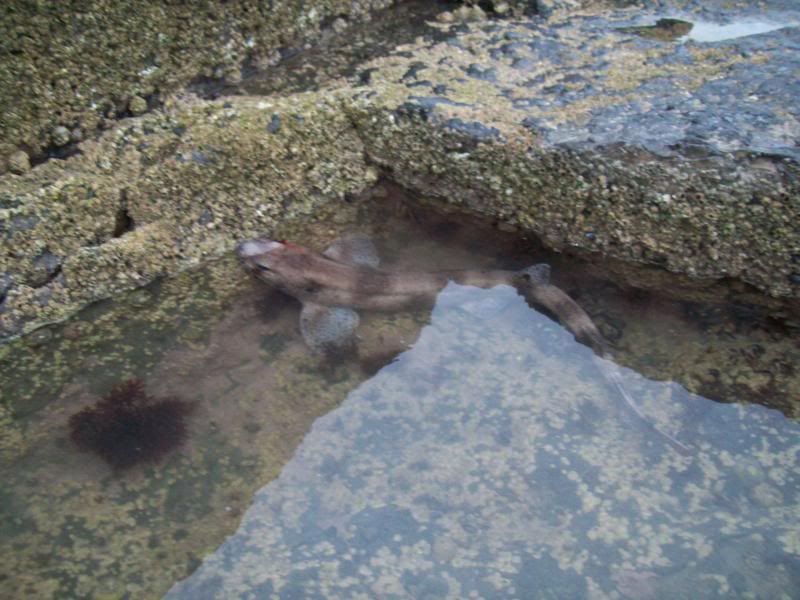 quiet until later on in the flood when a pack of dogs moved in devouring any fish bait, to try to avoid them changed bait to frozen black and started casting shorter in to the rough ground bay on the right, stroke of genius (luck), wham 4.5lb codling, well pleased
A couple of the smaller codlets followed but that was that for the night.
Whitebeach on Wednesday, not so sheltered here but facing the rods downwind and a rock in a carrier bag made everything just about secure, casting out on to the sand was very poor, just a handful of tiny pin yting and pout. big lug baits fished into the left rough did the trick though (you see I can learn)
3 codling to about 3lb made the walk worthwhile (it seems to get further as I get older)
I wonder if the boss will ever order me to go fishing again
Thanks Andy