Discussion Starter
·
#1
·
ok, i have been fishing over the winter, here are the reports.
January 24 (i think)
As the boat was taking a battering me and my dad decided to pull it of its mooring at shell island, this was done fairly quickly so i had a fair amount of fishing time.
wind was a pain but set up in the harbour, a few doggies pulled at my bait but the first fish of 07 was a flounder in the dark to salted lug.
next morning fished the beach with fresh lug lot of weed, wind in my face only made 3-4 casts but one had this bass, 38 cms on the line.
February 17
alot better weather bigger tides
fished a slighty different spot a bit further up because the water looked a bit deeper.
1 rod with lug, 1 rod with strips of mackeral.
had a weaver on the lug worm, but i'm sure something grabbed it and let go as i reeled in. a sand goby got foul hooked, then i had this whiting, 27 cms, took mackeral, unfornately it swallowed the hook so was later used as bait.
that night fished in the harbour at high tide, doggie and another smaller whiting
next morning
sea was even flatter nothing from the harbour but on the beach around low water had this nice dab.
March 10
very windy and overcast
as there was an evening for the boat club members i didn't get much fishing done but managed a small bass through all the weed.
next morning
managed to get fishing for 8.30am
first cast collected weed, but a small whiting was clinging on to the lug
second cast lug nothing
third cast stuck a clam on as well - result 1lb bass
killer bait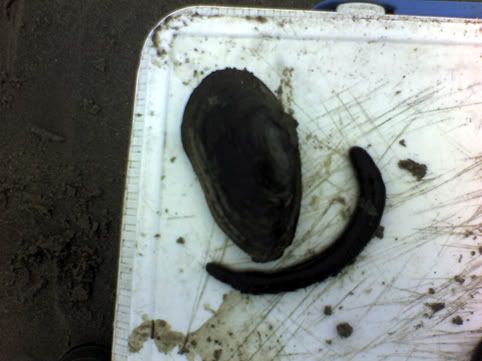 next cast with just lug - nothing
fifth cast with clam again - 2lb (42 cm) bass !!!!
off the beach at 9.30
well thats 3 weekends summed up there not many but good fish in the "lean" months i thought....
and all fish ,except the one whiting ,returned