Discussion Starter
·
#1
·
Well, where to start! I've just got back from a week at the far end of the LLyn peninsula and firstly I have to say what a beautiful part of the World it is.
The week started last Saturday when i was joined by two mates on a beach that screamed bass. Overcast with a good surf on mixed / broken ground we thought our luck was in. It wasn't
Despite there being 6 rods out and a variety of baits, we could tempt a bite no matter what we tried.
Next morning we headed for a more typical West Llyn Rock mark. As we scrambled down to the mark I was thrilled to see a young man had just landed a 23lb tope. It was a joy to see and, with a week to go at it, I knew I'd have to try for one myself. Straight off I banged out a mackerel fillet on a size 8 O'Shaunessy hook with 150lb mono.
After a hour or so with nothing happening, I decided to set up a scratching rod to have some fun with the wrasse and pollack. Stupidly, I took my eye off my rod, thinking the rachet on the reel would tell me if it needed my attention. A few minutes later when I turned around, I had a huge slackline. I picked up the rod and reeled in. I must have bought in 30m of line before I finally reconnected with the 7oz gripper lead and bait. Alas, the fish (and I'm assuming it must have been another tope) had successfully spit it out. I tried several times during the week to go one better but to no avail. As Arnie once said, "I'll be back"! And I was, most days
In the meantime, the general fishing wasn't too shabby! I caught lots of Ballan Wrasse to 2.5lb. This one weighed 2lb 4oz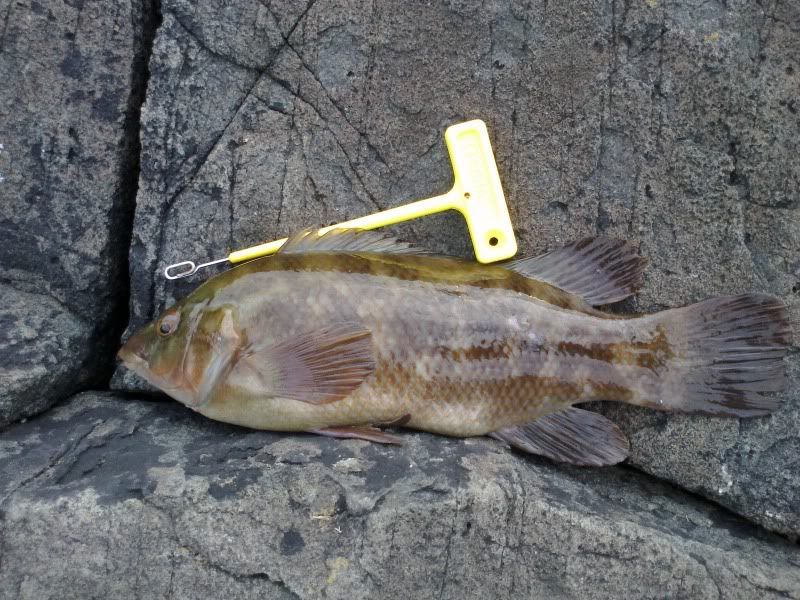 I also caught plenty of doubles, including juvenile Cuckoos: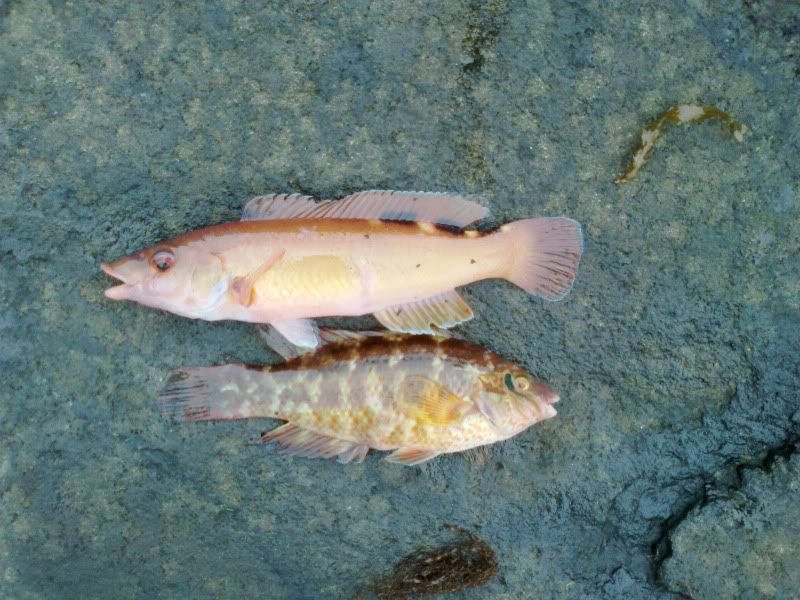 and males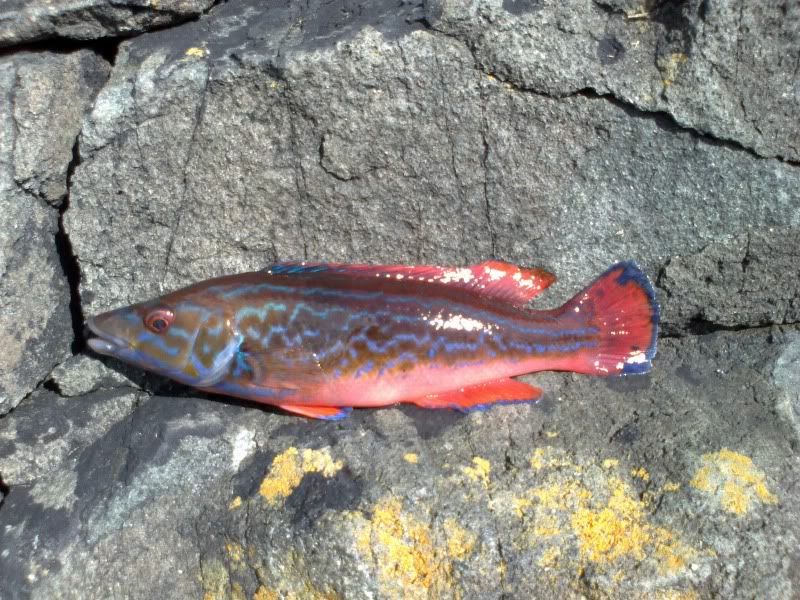 I caught plenty of Pollack to 2lb. I feel sure there were better fish out there, but I was so busy I didn't really target them properly.
On another mark I landed a nice Three Beard.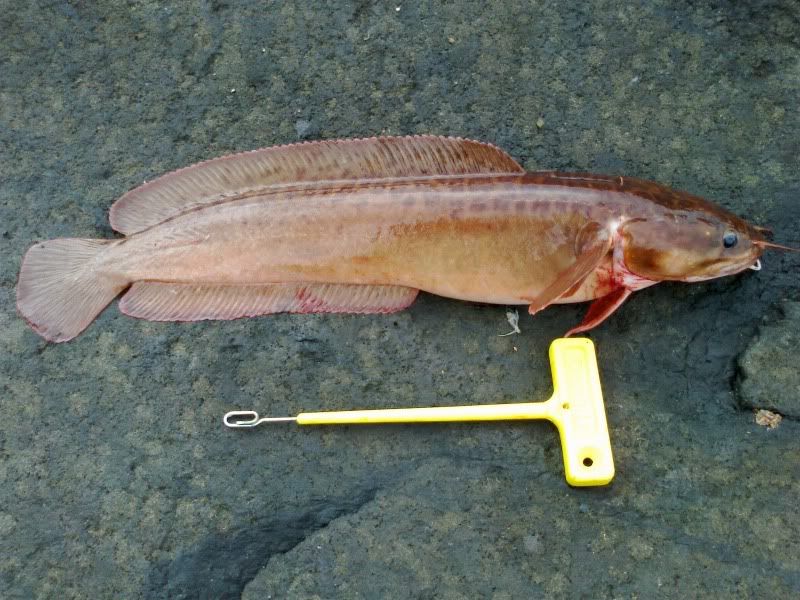 At 2lb (well, 1lb 15 and 5/8 oz to be precise) it's a new PB for me. Mrs Wobbler and I had it for supper with a nice asparagus risotto and a bottle of Pinot Grigio
Throughout the whole week the mackerel were plentiful. Many were over 1lb in weight:
Towards the end of the week even Mrs Wobbler got in on the act, landing a full house of 5 maccie off only her second ever cast. Great sport on a 200g spinning rod! She also landed pollack and coalie closer in
Last night I nipped down to the mark one last time and bagged up with 30 mackerel in just over 2 hours. They're now safely in the freezer ready for another crack at the tope some time soon.
And that was it. A thoroughly, thoroughly enjoyable break. I can't wait to get back.