Discussion Starter
·
#1
·
Got out for a second time last night. A couple of small pollack from Rapparee in the afternoon convinced me to go back oop north, this time to a new spot on an old haunt, Lee Bay.
I had some big fat lug but they were on their last legs (
I couldn't see any
) so I decided to get myself purposely marooned by the low high tide and fished over the sandy 'beach'.
It started almost as disastrously as my last visit here had ended.
A few days ago, after spending nearly 2 hrs on the road looking for a free ebb mark, I ended up here for my first trip out after fishing on holiday. While I was tackling up my only remaining half-decent rod I tightened the line and heard this tiny 'crunch' .... and nine inches of Shimano Nexave were at a right-angle to the rest of the rod :wah:
The damage was circular, like a vertical crush, and not snapped across — all I can think is the rod-case was dropped onto one end from a height by those lovely people at Excel Airways ...
But I repaired it, turning a good, sensitive beachcaster into a conger&kelp broomstick, and wanted to test the mend with some heavy casting while fished a 1 0z weight on the light rod.
Arrived, took off coat, put coat on rock, coat vanished.
Keys ... camera ... phone ... everything.
Spent 20 minutes searching the rocks and imagining what kind of wild beast or escaped loon had dragged it off up the cliffs, with not even a single bite to interrupt the fun.
I found it, about 20 feet from where I thought it was. Dark green canvas doesn't show up too well on grey, weedy rocks, not under small LED lights ...
By this time I was so pssed off I seriously thought about going home, but almost straightway things picked up with a good bite on the light gear: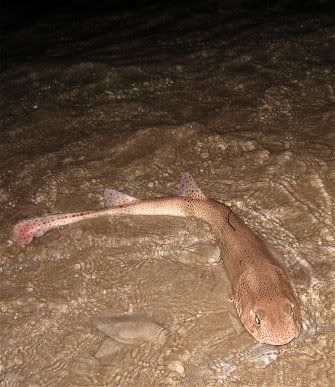 Good fight, too, and a nice size. This one had Thames Whale syndrome and this is it on its third attempt to beach itself.
I got the big rod out and half a joey soon brought this one, another fat lass of 26"+, though I was convinced this was a small drunk eel until it showed up on the shore, half asleep: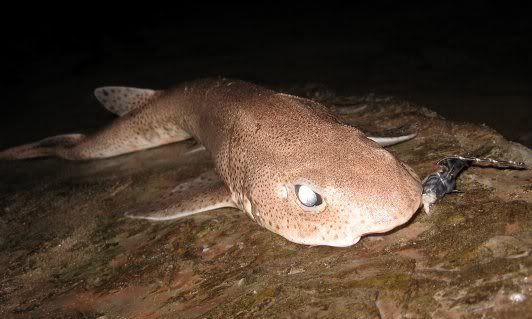 Then a real rodbender (ok, not
too
difficult on the light rod) woke me up and brought me a surprise rare(lately) Lee Bay bass: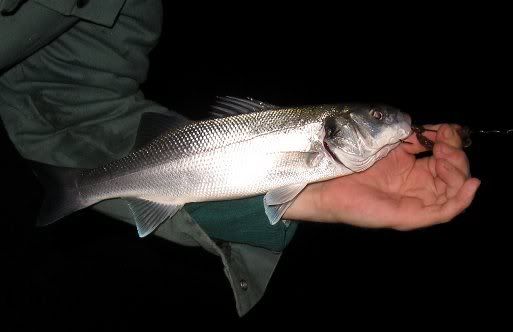 A couple more dogs on lug rounded things off nicely and I left happy when the water dropped enough, about an hour on the ebb.​
So, it began pispoor but ended with seven fish of three species in total, plus a tested and working home repair on a rod I thought I'd be ramming up those baggage-handling *******s' a***s!​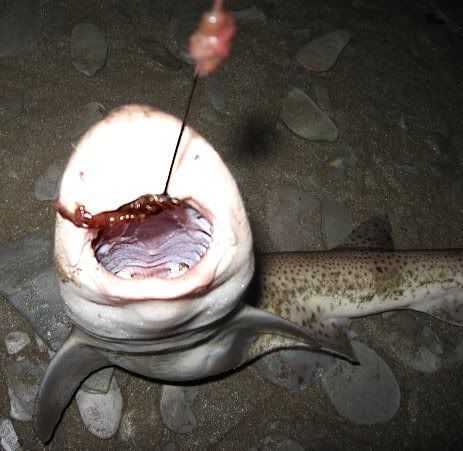 ​